Have You Been Injured In A Florida Theme Park Accident?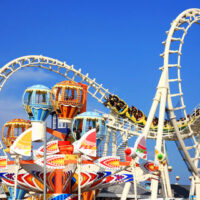 Florida may have the highest concentration of theme parks in the country, with over thirty major theme parks located in the state, most of which are located in and around central Florida. Theme parks, while fun and enjoyable attractions, can also harbor a number of safety risks for visitors. From slip-and-falls due to even and unkempt walkways and surfaces, to life-threatening ride malfunctions, a fun day at the park too often ends in the emergency room. If you have been injured at a Florida theme park, you may be unsure of where to look for help and support. It's important to understand that you have options.
When Can a Theme Park Be Held Liable?
A theme park can be held liable in any situation in which an individual was injured due to a lack of care on their part. Theme parks owe their visitors a duty of ordinary care. This means that rides should be safe and properly maintained, streets and walkways should be free of slippery or hazardous debris,  food should be in-date and heated to the proper temperature in clean conditions, and care should be taken in hiring qualified, non-negligent employees–just to name a few. Any deviations from the standard of care that result in injury–for instance, improperly securing a passenger on a roller-coaster ride–is likely to be found as negligent conduct, creating liability for a lawsuit.
Products Liability Lawsuits
Likewise, injuries sustained as a result of malfunctioning equipment may result in a products liability lawsuit against the manufacturer of the equipment. Recently, a slingshot ride in Kissimmee malfunctioned when a cable snapped, leaving two teenage riders dangling nearly 40 feet in the air for several hours. Ultimately, the teenagers had to be rescued by firefighters and thankfully were reported not to have suffered any injuries. An investigation is still on-going into why the cable snapped, as the ride had just been inspected in March. Pending the results of the investigation, all slingshot rides in Florida have been suspended. Customers have a right to trust that rides will function safely and as they are intended to. When a ride malfunctions and they are injured as a result, they are entitled to compensation for their injuries. This also serves to hold manufacturers accountable for the high-risk rides that they create.
How Can a Lawyer Help?
If you or a loved one have suffered financial damage as a result of an injury sustained at a Florida theme park, a lawyer can help you to receive compensation for all costs associated with your injuries. A successful theme park lawsuit can provide you with compensation for all medical treatment associated with the injury, as well as physical therapy, anticipated cost of future treatment, lost wages or reduced earning potential, and pain and suffering. A lawyer may be able to help you settle with the theme park directly, or bring a lawsuit if needed.
Schedule a Consultation
If you are dealing with the emotional and financial fallout of a Florida theme park injury, contact the experienced Kissimmee personal injury attorneys at Draper Law Offices and schedule a consultation today.
Resource:
clickorlando.com/news/local/2021/03/26/2-people-rescued-from-kissimmee-slingshot-ride-after-cable-breaks/