Safety Tips for Motorcyclists and Sharing the Road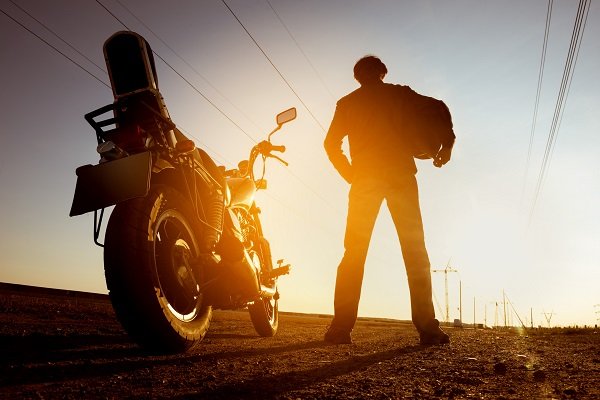 No one can dispute that a motorcycle offers very little protection for its driver in the event of an accident. But people ride because they love it. Motorcycles will never be 100% safe, just as riding in any other motor vehicle will never be totally safe. However, there are some safety measures that riders can take to help protect themselves out on the roads. Also, there are safety measures automobile drivers can take to properly share the road with motorcyclists.
Always Wear A Helmet
This may be the most important motorcyclist safety tip of all: always, always wear a helmet when riding. Wearing a helmet greatly increases your chance of survival in the event of an accident. Make sure your helmet fits comfortably and doesn't impair your vision or hearing.
Wear Long Sleeve Jacket, Pants, and Gloves
Protect your body while riding. Flip flops and a t-shirt may be comfortable in Florida weather, but neither will do much to protect your body in an accident.
Wear Clothing That Makes You Highly Visible.
Especially at night. Wear gear that is bright and reflective. You can even put reflective strips on your helmet or riding boots.
Follow Proper Group Riding Etiquette
Make sure all riders know the hand signals of the group. Make sure there is adequate space in front of and behind all riders. Put seasoned riders in the front and back of the group, and allow the pace to be adjusted so that everyone is comfortable.
Take a Rider Training Course
Did you know that you can take a rider training course? We encourage you to look up rider training courses in your area. Even if you're a seasoned rider, it can't hurt to learn more about motorcycle riding skills and road awareness.
When selecting a course make sure they are approved by the Florida Department of Highway Safety and Motor Vehicles and if you're seeking endorsement, that the course meets all the requirements for driver license endorsement.
Safety Tips for Sharing the Road with Motorcyclists
When you're driving a car you're bigger than a motorcycle, and you've got a big blind spot. Think about motorcycles as you're scanning the road while driving. Follow these tips to safely share the road with motorcycles:
Do not follow too closely. Motorcycles have the ability to stop far more quickly than a car, so plan your trailing distance accordingly.
Yield the right-of-way to motorcycles.
Always look for motorcycles before turning or switching lanes.
Do not share a lane with a motorcycle.
When being passed by a motorcycle, maintain your lane position and speed.
Pay attention and watch out for riders!
If you have questions about motorcycle accidents or accident liability, give us a call at 866-767-4711 to schedule a free consultation.
You Want A Personal Injury Attorney On Your Side
Unfortunately, no matter how careful you are on the roads, sometimes accidents happen. If you have been injured in a motorcycle accident, you want an experienced personal injury attorney on your side.
We know how to properly value your personal injury claim. When you hire us to represent you in your claim, you will have true advocates on your side. Put our trial team to work for you. Call our office today 866-767-4711 to schedule a free consultation.
Draper Law Office proudly serves clients throughout Central Florida, including Kissimmee, and Orlando, and Osceola County and Orange County, FL.