Tips for Avoiding Florida Boating Accidents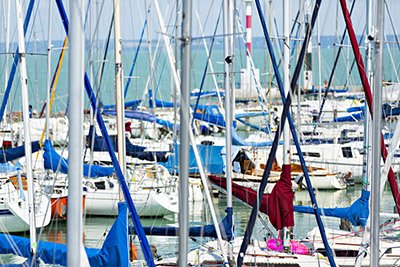 During the summer, boating accidents are all too common. According to data from the U.S. Coast Guard, there were over 4,000 boating accidents resulting in 610 deaths and almost 3,000 injuries (to the tune of $39 million in property damage) in 2014. If you've been injured or suffered property damage in a boating accident or if someone you love was killed, we can help you get the financial compensation you deserve, but we'd rather help you avoid them altogether. That's why we've compiled a list of the common reasons boating accidents occur and how you can avoid them.
1. Operator Inattention
It is imperative when you're driving your boat that you're constantly paying attention. Just like you wouldn't take your eye off the road when driving a car, you should keep your eyes open when driving a boat, too. Things like texting, excessive conversation that causes distraction, attending to disruptive passengers and anything else that takes your attention away from what's going on should be avoided. Keep your eye out for hazards, other boats, swimmers and anything that could cause an accident.
2. Inexperienced Operators
Operating a boat isn't the same as operating a car. You not only need to know how the boat works, but you also need to know the rules of navigation and how to deal with emergency situations, which is different on the water than on the road. Being able to make the boat move forward isn't enough. Inexperienced operators are the third leading cause of accidents, so be careful who you let take the helm when you need a break.
3. No or Inattentive Lookout
Unlike a car, in a boat, you need a lookout — someone to help you look for hazards that aren't in front of you. There are no visible paths in a boat, so other boats could be coming from any directions (with inattentive or inexperienced operators). Make sure this person is equally trained in boat operation in case you have to take a break and so they know just as well as you do what to look for and how to communicate potential hazards.
4. Speeding
Some areas do have speed limits for boats, but even if no limit is posted, it's important that you operate your boat at a safe speed. Just as on the road, you need time to react to dangerous situations.
5. Operating Under the Influence
It sounds nice: A day out on the water kicking back a few cold ones – but not for the operator. Alcohol and drugs, even legal drugs (the ones with warnings about operating heavy machinery) can slow a boater's reaction time, creating a potentially deadly danger for the passengers and other boaters and swimmers. Even passengers should limit consumption to avoid becoming a danger or distraction to the operator. If you want to drink, it may be best to stay home and enjoy the Florida sun on your patio. Just as with cars, you can get into legal trouble over intoxicated boating.
6. Improperly Maintained Equipment
As with all machinery, properly maintained equipment is essential for safe boating. It's the responsibility of the boat owner and operator to ensure that the boat receives regular maintenance and equipment checks before going on the water.
7. Not Knowing or Violating Navigational Rules
There are established rules about how to navigate your boat, and not knowing them or failing to heed them can lead to crashes with other boats or even running your vehicle aground.
8. Dangerous Water Conditions
If you're operating a boat, you need to know (and heed) the warning signs of dangerous waters and know how to react when the water conditions change unexpectedly.
9. Dangerous Weather Conditions
Not only should a boat operator check the weather forecast (including wind conditions) prior to going out each day, they should know what constitutes less apparent danger. Even if a storm isn't expected, high winds can make safe navigation difficult. If something comes up unexpectedly, as the weather is apt to cause, and you're in a weather situation you don't know if you can handle, it's time to head in.
10. Waves and Wakes
Waves and wakes are a natural part of boating. A wake is the disturbance of water resulting from a passing boat (similar to the wind force you may feel when passing a large truck on the road). They aren't always predictable, and many things, including the weather, can affect how forceful a wave is. Extremely forceful waves and wakes can cause accidents and injuries. People could even be killed if the operator can't deal with the situation. If the waves are too forceful, stay off the water and be careful how close you get to other vehicles on the water.
Boating Accident?
If you've been injured or your property has been damaged in a boating accident due to someone else's negligence or if someone you love has been injured or killed, call the Kissimmee personal injury attorneys at Draper Law Offices at 866-767-4711 for a free, no-obligation consultation.