1 Killed In Kissimmee Car Accident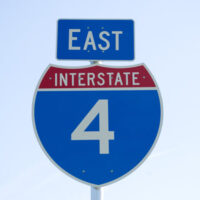 Car accidents happen every day. Most are minor fender benders, but then there are some that end up being fatal.
This was recently the case in Kissimmee. A crash occurred on the evening of September 22, causing a fatality.
The accident happened on Interstate 4 near mile marker 65. It is unknown how the crash happened and how many vehicles were involved. However, one person was killed. Both the eastbound and westbound lanes were blocked due to the crash.
Causes of Fatal Car Accidents 
A crash can be fatal due to various factors. They include the following:
Distracted driving. Distractions are one of the top causes of accidents. Distracted driving is deadly, causing several thousand fatalities every year. The problem is that many drivers try to multitask while behind the wheel, and this can cause serious crashes. There are three types of distractions:
Visual distractions, which cause you to look away from the road.
Manual distractions, which requires you to take one or both hands off the steering wheel.
Cognitive distractions, which include daydreaming and anything else that causes you to lose focus on the task of driving.
Going fast can be fun, especially if you have a sports car. However, as the saying goes, speed kills. The higher the speed, the higher the likelihood of losing control. If a crash occurs, the force is much greater, resulting in catastrophic injuries and even fatalities.
Drunk driving. Intoxication can significantly affect a person's ability to drive. Alcohol consumption affects vision and hearing. It affects reaction times, making accidents more likely to occur. Drunk driving also makes a person more likely to take risks, such as not wearing a seatbelt, making injuries more severe in a crash.
Fatigue is a serious issue that can be just as dangerous as drunk driving. Drivers who are overly tired are three times more likely to be involved in a crash. Drowsy drivers can fall asleep at the wheel, which can cause them to drift into another lane of traffic. A driver can also follow a vehicle too closely or find it hard to concentrate.
Road conditions. Even if you drive carefully, road conditions can be dangerous, causing deadly crashes. This is especially true when drivers do not adjust their speed appropriately. Dangerous road conditions may include wet roads, construction zones, missing or confusing road signs, and potholes. Inclement weather, such as rain, snow, and ice, can also contribute to poor road conditions.
Contact Us Today
Car accidents can lead to various consequences, such as slowdowns, road hazards, injuries, and even fatalities.
If you have been involved in a car crash and have suffered various damages, get the help you need from the Kissimmee auto accident lawyers at Draper Law Office. Our experienced team can provide you with sound legal advice. To schedule a free consultation, fill out the online form or call (407) 743-6628.
Source:
clickorlando.com/traffic/2023/09/23/traffic-blocked-on-interstate-4-in-osceola-county-following-fatal-crash/