How The Color Of Your Car Can Determine Accident Risk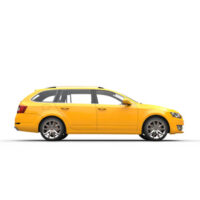 There are a lot of things that can cause a person to get into an accident. They include things such as distractions, drunk driving, bad weather, road conditions, and poor driving habits in general. But did you know that the color of your vehicle can also determine your risk of being involved in an accident?
That's right. You may like that shiny red Corvette or that blue Honda, but are those colors safe? What's the ideal paint job for vehicle safety? Here's what you need to know if you are in the market for a new or used car.
What Colors Are the Safest?
Silver and white are the most popular car colors. However, according to research by Monash University's Accident Research Centre, white is safer than silver based on safety ratings. The study showed that white cars are 12% less likely to get into an accident than black cars.
Cream, beige, and yellow are also safe colors for cars and they ranked closely behind white. In fact, in some studies, yellow actually surpassed white as the safest vehicle color.
Most Dangerous Car Colors
Black ranked as the most dangerous car color, with a 12% higher risk of being involved in an accident. The second most dangerous car color on the list is gray, at an 11% higher risk of being involved in an accident. Also on the list are silver (10% higher risk), as well as blue and red (both a 7% higher risk).
Why Are Some Colors More Dangerous Than Others?
Why does car color make a difference? Light-colored cars are easier to see, especially at night. But even in daylight, darker-colored cars have less contrast with the road. When other drivers are better able to see you, they are more likely to hit the brakes before it's too late. White and yellow cars are not only less likely to be involved in an accident, but they're less likely to be stolen due to visibility. A thief is more likely to get caught.
What Does This Mean?
So does this data mean that you should pass on that black convertible or that gray SUV? Not necessarily. An 11-12% higher risk of an accident is not necessarily major. You won't suddenly be accident prone by buying a car of these colors. After all, there are many other things that can cause an accident. The most important thing you can do is be a safe driver.
Contact Us Today
A lot goes into buying a car. On top of price, safety features, and space, make sure you get the right color. That way, you can reduce your risk of an accident.
If you are in an accident, make sure you get the right help. Count on the Kissimmee auto accident lawyers at Draper Law Office for the legal advice. We can protect your rights to compensation. Schedule a free consultation by calling (407) 743-6628 or filling out the online form.
Source:
rd.com/article/car-color-accidents-risk/