2 Kissimmee Teens Dead And One Injured After Tragic Head-On Collision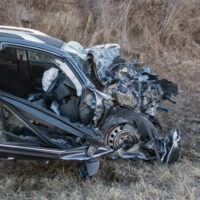 Earlier this week, an afternoon crash in Osceola County left witnesses stunned and a community devastated. The collision occurred at the intersection of Suzette Drive and Pleasant Hill Road around 4:30 p.m. According to Florida state troopers, a 17-year-old boy from Kissimmee was driving a sedan, along with a passenger who was also a 17-year-old boy from Kissimmee. The boy was driving north on Pleasant Hill Road when for unknown reasons, he veered onto the shoulder. According to police, the boy then overcorrected, steering into and entering the southbound lanes of Pleasant Hill Road. At this point, another sedan traveling southbound on Pleasant Hill Road, driven by a 27-year-old Kissimmee woman, was unable to avoid the vehicle which had just entered her lane. She attempted to swerve but collided with the passenger-side of the boy's northbound sedan. The collision propelled the boy's sedan into a pole. Osceola County Fire and Rescue responded to the accident. Both of the 17-year-old boys were pronounced dead at the scene. The 27-year-old Kissimmee woman was airlifted to a local hospital in serious condition. Authorities noted that everyone involved in the crash was wearing a seatbelt, and have not commented on what may have caused the driver to swerve out of his lane and into the shoulder initially. It is unclear whether there will be further investigation into this accident, and no additional updates have been released about the medical condition of the woman or if she survived.
Head-On Collisions
Head-on collisions are among the most deadly kinds of car accidents that a person can be involved in. Statistics gathered by the Insurance Institute for Highway Safety reflect that in a head-on collision there is a 58% fatality rate for vehicle occupants. These crashes are so dangerous because they effectively double the amount of force incurred in a collision at the part of the car where the passengers are most vulnerable to injury. Head-on collisions can be caused by accidents outside of a driver's control, such as a steering or brake mechanism failing, however, in the vast majority of cases, distracted or drunken driving is to blame. If you have been in a head-on collision that was not your fault, the odds are good that it was somebody else's. It can be hard to tell from the outside what caused an accident, but personal injury attorneys are experienced at conducting investigations in order to accurately determine all liable parties and take appropriate legal action. If you have been in an accident like this and sustained injuries, our lawyers can help you navigate the insurance process and ensure that you receive the maximum amount of compensation that you are entitled to.
Talk to a Kissimmee, Florida Personal Injury Lawyer
If you or a loved one have been injured in an accident that was not your fault, the experienced Kissimmee auto accident attorneys at Draper Law Offices are ready to help. We will fight to ensure that your rights and interests are protected, and that you get the best possible outcome in your case. Contact us today to schedule your free personal injury consultation.
Source:
wftv.com/news/local/fhp-2-killed-head-on-crash-osceola-county/RLMV3XTKOFAQVOEVTQE5LNDOBA/