Florida Woman Killed After Crashing Into Pole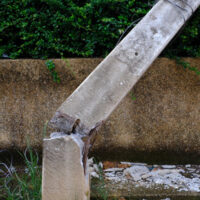 Sometimes we're in a hurry to get from place to place—and then we get stuck behind a slow car. This situation can be frustrating, but what can you do? Sometimes you are able to pass the car, but this is not allowed if there are double yellow lines.
Some people ignore the lines and pass anyway. This is not only illegal but unsafe. In fact, illegally passing on a Florida road recently led to a woman's death.
The fatal accident happened on the morning of May 14. A 30-year-old woman from Kissimmee was heading north on Country Club Road in Poinciana. She got stuck behind a Nissan Altima and as she neared Wedge Lane, she crossed the double yellow lines and passed the vehicle.
There was a vehicle approaching her while passing, so the woman got back into the proper lane, but not before clipping the front left side of the Nissan. The impact caused the woman's vehicle to go onto the sidewalk and hit a concrete pole.
The woman died at the accident scene. The driver of the Nissan was not injured. Nearby roads were closed for almost four hours as police investigated the crash.
Dangers of Passing
While passing is allowed in certain circumstances (such as there are no double yellow lines or signs telling you that it is prohibited), it is not always safe. When passing another vehicle, you have to be in the opposite lane, which means there is a risk that vehicles could be coming at you head-on. When this happens, you need to get back into your proper lane as soon as possible.
When deciding whether or not to pass a vehicle, drivers must consider various factors, such as road, weather, and traffic conditions and determine if they have enough time to complete the maneuver. It is never a good idea to try to pass another vehicle if it would put the driver in greater danger.
Sometimes continuing to follow the slower vehicle is the safest route. In general, drivers should not pass a vehicle unless they are going 10 mph faster than the car they wish to pass. Still, it must be safe to pass. Do not try to pass if there is already another vehicle trying to pass you. You should be able to see far enough ahead and have enough space to pass the vehicle and fully complete the maneuver.
Also, keep in mind that drivers that wish to pass a vehicle need to do so on the left. Passing on the right is rarely allowed.
Contact Us Today
When passing is illegal, it's likely because it is unsafe. When drivers ignore traffic signs and road markers, they can get into serious car accidents.
Involved in a car crash? Seek legal help from the Kissimmee auto accident lawyers at the Draper Law Office. We'll help you get the compensation you deserve for your injuries. To schedule a consultation, fill out the online form or call (407) 743-6628.
Source:
fox13news.com/news/central-florida-woman-illegally-passing-a-vehicle-dies-after-crashing-into-concrete-pole-deputies-say