Common Motorcycle Accident Injuries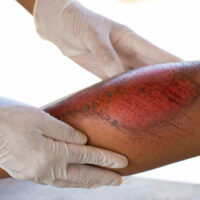 Many Florida residents enjoy riding their motorcycles on a nice day. While riding a motorcycle can be fun, it can also come with a lot of dangers. These two-wheeled vehicles require different skills to operate properly. They are different from passenger vehicles and much less safe.
Motorcycle crashes are often serious due to the lack of protection. These vehicles are not enclosed, unlike a car or truck, so it is easy for a rider to get ejected. Many riders who get ejected suffer serious injuries and even death.
Sadly, motorcycle deaths are on the rise. This is especially true for older riders, who are also more likely to have thoracic injuries, or trauma in the chest area. Multiple rib fractures and abdominal injuries are common.
Motorcycle accidents tend to be more severe than crashes involving passenger vehicles. Read on to learn more about the most common injuries.
Road Rash
When you think of motorcycle injuries, road rash is usually the first one that comes to mind. Road rash refers to serious skin abrasions. While these injuries may not seem severe, if not treated promptly, they can lead to scarring and infections.
Brain Injuries
Traumatic brain injuries and other head trauma are common. Head injuries are especially common when the rider is not wearing a helmet. A blow to the head can cause fatal injuries.
Spinal Cord Injuries
The impact of a crash can cause damage to the spinal cord. Spinal cord injuries are typically permanent and lead to mobility issues and other issues pertaining to the body.
Leg Injuries
In a passenger vehicle crash, the impact can cause the legs to hit the steering wheel or dashboard. But in a motorcycle crash, the legs are exposed, making injuries much more common. A rider can suffer soft tissue injuries or even fractures.
Fractures
Broken bones can happen in a variety of ways. The bike could fall on your leg, crushing it. You may fall off your motorcycle and catch yourself with your hands, breaking your wrist. In a crash, ribs, legs, arms, and the pelvis can also be broken.
Internal Injuries
Internal injuries may not be apparent at first, but that doesn't mean they aren't deadly. Internal bleeding or organ damage can be dangerous if not treated promptly. If you suffered a blow to your stomach area, be sure to seek medical help right away so you can get checked out. It's better to be safe than sorry. 
Contact Us Today
Motorcycles are fun to ride, but injuries are common and can be life-threatening. Make sure you know how to stay safe before you ride on Florida's roads.
If you have been involved in a motorcycle accident, seek legal help from the experienced Kissimmee motorcycle accident lawyers at the Draper Law Office. We can help you get the compensation you deserve for your injuries. Contact our office to learn more about your legal options. Call (407) 743-6628 or fill out the online form to schedule a consultation.
Source:
ncbi.nlm.nih.gov/pmc/articles/PMC3217482/