What Is The Average Settlement In A Semi-Truck Accident?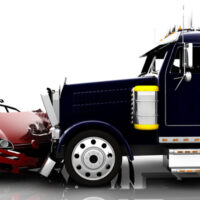 If you or a loved one have been involved in a semi-truck accident, you are likely beginning to succumb to mounting medical bills and feeling the strain of lost wages. It's rare that anyone other than the driver of the semi-truck escapes an accident with one with minor injuries. Generally, the physical and property damage resulting from a collision with a semi-truck is catastrophic. Unfortunately, these accidents are also the most common during the holiday season. While it might be the happiest time of year, it is also the busiest for commercial trucks transporting goods and deliveries cross-country. Inclement weather and tight deadlines only increase the risk.
How Much is the Average Semi-Truck Cost to Victims
The cost of a semi-truck accident to victims depends on a number of factors, including how many semi-trucks were involved, if they had trailers attached, whether anyone was injured, and if the injuries proved fatal. According to statistics from the Department of Transportation, the estimated settlement for a victim who suffered a non-fatal injury in an accident with a single semi-truck is likely to be nearly $200,000, or $195,258, to be exact. In the event of a fatal injury, the cost of a semi-truck accident skyrockets to $3,604,518 for a single crash. These estimated damages include all medical and emergency treatment costs, as well as rehabilitative care, physical therapy, and lost wages as well as lost income potential. These valuations also take into account pain and suffering, loss of consortium, loss of companionship, and additional expenses in the event of death. Without the help of an insurance settlement and lawsuits against liable parties, the victim or the family of the victim would be responsible for paying all of these costs on their own. For most individuals and families, that kind of financial burden would be impossible to bear. Few families have several millions of dollars set aside in case of emergency, so they rely on the civil court system to rectify the financial harm caused by the crash. Luckily, this is exactly what personal injury lawsuits are designed to do. A personal injury lawsuit is intended to put you back in the position you would have been in financially had the accident never occurred. It's important to understand that while these statistics do provide an average amount of a settlement, the specific amount can vary dramatically based on the unique circumstances of your case. The best way to get an accurate estimate of your damages is to talk to an attorney.
Schedule a Consultation with the Draper Law Office
If you have been in a semi-truck accident, you do not have to navigate the process alone. By retaining an experienced Kissimmee auto accident lawyer as soon as possible, you can avoid being taken advantage of by insurance claims adjusters who want to pressure you to accept a settlement lower than you will require to recover from your injuries and move forward in life. Make sure that you have an experienced and dedicated advocate on your side. Contact the Draper Law Office today to schedule your consultation.
Source:
fmcsa.dot.gov/sites/fmcsa.dot.gov/files/docs/UnitCostsTruck%20Crashes2007.pdf