2 Killed In 3-Vehicle Crash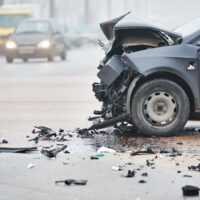 Rear-end accidents are often seen as minor events, but the truth is that they can be deadly under certain circumstances. Sadly, this was recently the case when two people were recently killed in a Florida rear-end crash.
A woman and boy were killed in a three-vehicle accident. The fatal crash happened on the evening of December 19 on State Road 429 in Osceola County.
A man from Lakeland was driving a Ford F-350 on State Road 429. He was headed south between the Sinclair Road exit and the Interstate 4 interchange when he rear-ended a Chevy Silverado. The Chevy was then pushed into another vehicle.
A 35-year-old woman in the Chevy was killed in the crash. She died at the accident scene. A 10-year-old boy inside the Chevy was taken to AdventHealth Celebration, where he later died.
The driver of the Chevy and a 3-year-old girl in the Chevy suffered minor injuries, as did two people in the Ford F-350. All were taken to local hospitals for treatment.
Chain Reaction Crashes
Chain reaction crashes occur when one vehicle crashes into another, and then that vehicle collides with another. These accidents often occur due to the force of the crash.
Chain reaction accidents may be caused by a single driver's negligence or by instances of carelessness by multiple drivers. Multiple people can sustain injuries.
Because of this, determining liability can be complicated. In fact, the biggest issue regarding a chain reaction crash is: who was at fault? Liability is not cut and dry in these cases. Even if the rear driver admits to being distracted, they may not be 100% liable. That's because there may be other issues at play, such as poor weather conditions, distracted driving, drunk driving, speeding, or road construction. Another driver could be held liable to some degree. Because of this, it's important for police and legal teams to thoroughly investigate these accidents and uncover as much evidence as possible.
It is possible for multiple parties to be partially at fault. But despite being at fault, a negligent party can still cover compensation for damages under Florida law. Florida recognizes comparative negligence law, which means a party's compensation is reduced based on their degree of fault. Even if you are 99% at fault, you can still recover for damages, but you would only receive 1% of the damages. For example, if you suffered $100,000 in damages, you could still get $1,000.
Contact Us Today 
Rear-end crashes can end up being deadly chain reaction accidents. Drivers need to be careful when on the road. They should avoid high speeds and distractions.
Injured in a crash? Seek legal help from a Kissimmee auto accident lawyer from Draper Law Office. We are committed to our clients and know how to get you full and fair compensation. Schedule a free consultation by filling out the online form or calling (407) 743-6628.
Source:
aroundosceola.com/news/orlando-woman-boy-killed-monday-night-429-wreck