Pedestrian Safety In Florida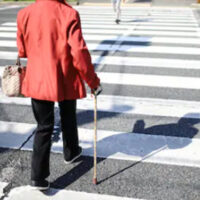 You may have noticed that the roadways are busier this time of year. There are more cars around Kissimmee and surrounding areas as people prepare for the season. They're traveling to see family and friends for winter, spring, and everything in between.
More cars means more danger for pedestrians. Those crossing roads need to be especially vigilant this time of year. Drivers may be distracted or intoxicated. Plus, it's a stressful time of year.
To stay safe, everyone on the road needs to work together. Being distracted or in a hurry helps nobody. Here are some tips that motorists and pedestrians should keep in mind while on the roadways this holiday season.
Tips for Motorists
If you are driving a vehicle in Kissimmee or anywhere around Florida, you need to be aware of pedestrians at all times. After all, failing to yield to pedestrians is illegal and can result in a citation. Here are some tips to keep in mind while driving:
Use extra caution when driving in areas of low visibility, such as nighttime and bad weather.
Slow down and be prepared to stop when at a crosswalk.
Never pass vehicles stopped at a crosswalk. They may be stopped for pedestrians who you can't see.
Follow the speed limit, and be prepared to slow down in school zones and in neighborhoods where children are present.
Be aware of your surroundings at all times. You may have to slow down or stop at any time for bike riders, emergency vehicles, buses, animals, and other cars turning.
Be extra cautious when backing up, since pedestrians may be in your way without you knowing.
Tips for Pedestrians
Pedestrians need to do their part as well. Their safety is at risk when they cross a road with vehicles, so here are some ways in which they can prevent accidents.
Walk on sidewalks when available. If there isn't one, walk facing traffic and as far from vehicles as possible.
Pay attention at all times. Avoid headphones and distractions such as phones.
Cross streets at crosswalks or intersections when possible.
Wait for a gap in traffic before crossing.
Never enter the street while between parked cars.
Watch for cars entering or exiting driveways or backing up in parking lots.
Be visible at all times. Wear bright clothing and use a flashlight at night.
Never assume a driver sees you. Make eye contact with drivers before crossing the road.
Be predictable. Never run out in front of vehicles. Cross a road slowly and carefully.
Contact Us Today
 Pedestrians need to be especially careful this time of year. The roads are busy with people traveling for the season and drivers are more distracted than usual.
Hit by a car? The Kissimmee pedestrian accident lawyers at Draper Law Office can help you understand your legal rights. We'll aggressively help you pursue your claim. Schedule a free consultation today by calling (407) 743-6628 or filling out the online form.
Source:
flhsmv.gov/safety-center/driving-safety/pedestrian-safety/#:~:text=Yield%20to%20pedestrians%20in%20crosswalks%20and%20stop%20well%20back%20from,the%20person%20walking%20to%20cross