Bicyclist Suffers Life-Threatening Injuries in Hit-and-Run Crash in Central Florida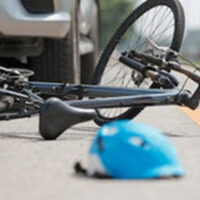 Sometimes disasters bring out the best in human nature.  In life-threatening emergencies, people tend to show more courage and selflessness than they do in ordinary situations.  Someone who is ordinarily so squeamish about the sight of blood that they don't watch violent movies, and who close their eyes when getting a blood test, might stay by the side of a stranger injured in an accident until an ambulance arrives.  Why, then, are hit and run car accidents so common?  It often has to do with the legal issues involved, regarding both civil and criminal laws.  If you have been injured in a car accident where the driver left the scene of the collision, contact an Osceola County car accident lawyer.
Driver Strikes Bicyclist and Leaves the Scene of the Crash
On November 1, a 56-year-old man in Tampa suffered critical injuries when a car struck his bicycle.  The man was riding his bicycle on South Westshore Boulevard near West Wyoming Avenue in the early morning hours, before the sun rose.  As he approached the intersection on his bicycle, a Nissan Murano struck him, throwing him from his bicycle and causing him to land in a lane of traffic.  A white sedan also struck him after he fell into the road.  Both the driver of the Nissan and the driver of the sedan left the scene without stopping to render assistance.
Later that day, police found a Nissan Murano that matched the description of the one involved in the accident; the car was parked at an apartment complex near the site of the collision.  Its front-end damage was consistent with having struck a bicyclist.  The following day, they arrested the owner of the vehicle, a 24-year-old man.  He is facing charges for leaving the scene of an accident involving bodily injury and for driving with a suspended license.  As of December 2020, police have not identified the white sedan or its driver.
The Legal Issues Involving Hit-and-Run Accidents
Leaving the scene of a car accident without ensuring that injured people get to safety is a crime.  Many drivers who cause injury or fatality accidents and then leave the scene serve time in prison.  Where does that leave the injured victims regarding their rights to seek damages in a civil lawsuit?  In practice, it helps and it hurts.  It helps you win your case because, if the defendant received criminal charges, that is all the evidence you need that there was negligence on his part, especially if the defendant pleaded guilty or was convicted at trial.  Meanwhile, going to prison for hit-and-run does not exactly put you in a good position to be able to pay a personal injury lawsuit judgment; therefore, suing the driver, if he or she has been identified, is not always the best option if you have been injured in a hit-and-run accident.
Let Us Help You Today
A Kissimmee auto accident lawyer can help you find a way to recover damages after getting injured in a hit-and-run car accident, even if police have not been able to identify the driver.  Contact Draper Law Office for help with your case.
Resource:
patch.com/florida/southtampa/tampa-police-seek-witnesses-westshore-accident