FDOT's Alert Today Florida Shares Commitment to Transportation Alternatives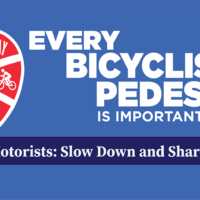 On Saturday, October 30, 2021 more than 400 riders and volunteers will participate in all or portions of the 28-mile ride with comfortable trails, bike routes and low-traffic roads through Casselberry, Orlando, Winter Park, Eatonville and Maitland.
For the fourth year, Alert Today Florida, a program of the Florida Department of Transportation (FDOT) is the presenting sponsor, showing its continued support of programs and events promoting transportation options and safety.
Cities and counties in the Greater Orlando Metro Area, in many cases with FDOT assistance, are working hard to connect biking/walking trails.
Trenda McPherson, traffic safety marketing coordinator for FDOT's traffic safety office, has been the driving force behind Alert Today Florida through the years. She spoke highly of the Bike 5 Cities event and the efforts in Central Florida to promote bicycle ridership and safety.
"What I'm seeing in Central Florida specifically are more options being made available," says McPherson. "Infrastructure is improving, including more shared use paths and trails, and shared road use."
McPherson is also encouraged as people see biking as a transportation option, rather than just relying on getting behind the wheel and driving.
Draper Law has seen first hand the danger that exists on our roads and specifically our crosswalks and intersections. Overcrowded roads caused by rapid migration from northern states to Florida has been a huge factor in Central Florida roads becoming even more dangerous, but even more of a reality is that people are distracted while driving, and it's causing injuries and costing lives.
Draper Law is asking the community to never drive distracted and never drive while impaired. Bike Walk Central Florida is bringing solutions and offering ways for us to all share the roads, intersections, and crosswalks. We just need to be mindful about others and work together.