Kissimmee Train Accident Injuries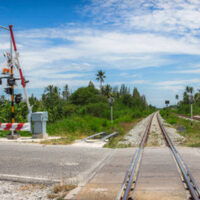 Florida is a bustling consumer economy, which means inventory is always coming into and out of the state. On highways, railways, and planes, millions of dollars in retail is moving through the state at any given moment. While this is great news for interstate commerce, the increased traffic also tends to mean increased accidents. The high number of commercial semi-trucks on highways contributes to a high volume of roadway accidents and fatalities. Likewise, the railroad poses significant risks to pedestrians, children, and local residents. Although you may think it's easy enough to avoid getting hit by a train, studies have shown that they are actually quite hard to hear until they are too close to avoid. In fact, over 760 people died due to being hit by trains this year alone. Additionally, nearly 2,000 people suffer railway injuries each year.
Train Accident Tragedy in Kissimmee
A pedestrian in Kissimmee was hit and killed by a SunRail train just this week. The accident occurred around 2:00 in the morning, and the pedestrian was declared dead at the scene. The police have not released the name of the victim, or any details on what may have caused the accident. For this reason, it is also not clear who was at fault, if there was any negligence involved, and if any other factors contributed to the accident. Due to an increase in the number of tragic accidents like this locally, the Kissimmee Police Department has elected to join other law enforcement agencies nation-wide in raising awareness about railway safety during Rail Safety Week. During Rail Safety Week, officers will also share information on how trespassing laws apply to train tracks. Police will also be more vigilant in writing citations and making arrests for people violating train tracks trespass laws or who cross train tracks when they are not supposed to during this week, which is the last week of September.
How a Lawyer Can Help
If you have been injured in a Florida train accident that was not your fault, you may have legal avenues available to you to help you recover. Railroad accidents are among the most challenging to litigate, so if you have been in one, it's critical that you talk to a personal injury lawyer who has experience. The most challenging part of a train accident case is usually the investigation into the official cause of the accident, which can take a very long time to complete, and may involve cooperating with agencies such as the Florida Department of Transportation. If you are curious about whether you have a strong case and if it makes sense to move forward, the best thing you can do is schedule a consultation with a Kissimmee personal injury attorney so that they can assess the facts and circumstances of your case and make a determination about whether it makes sense to move forward and what is the best way to do so.
Talk to a Skilled Personal Injury Attorney
If you or a loved one have suffered injuries or death as a result of a train accident that was not your fault, the experienced Kissimmee auto accident attorneys at Draper Law Offices are ready to help. Call today to schedule a consultation and find out how we will fight to get you the compensation that you are entitled to.
Sources:
positivelyosceola.com/kpd-to-monitor-rail-crossings-as-part-of-nationwide-railroad-safety-effort-operation-clear-track/
clickorlando.com/traffic/2021/09/13/death-investigation-in-kissimmee-closes-us-192-cancels-sunrail-trains/