I've Been In A Car Accident: Now What?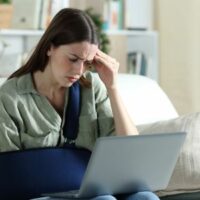 Being in a car accident can be one of the most overwhelming and catastrophic events that a person experiences in their lifetime. Often, people are in shock immediately following a car crash. It can be hard to remember in the moment what it's necessary to do, as you don't always have access to your logical brain and memory in a crisis. However, the more familiar you are with the steps to follow after an accident, the more second nature it will become to default to these steps, even in times of extreme stress.
Breathe and Do a Body Scan
The First thing to do after an accident is take a deep breath and bring your attention to your body, paying careful attention to anywhere that you are experiencing pain or discomfort. This is known as body scanning, or scanning your body for potential injuries. This step is important, because if you are experiencing severe neck or back pain, it may not be in your best interest to move from the vehicle (even if you are able). Often, injuries don't become visible or apparent until days after the crash–such as soft tissue injuries, and some back and neck problems. This can result in difficulties getting coverage for these injuries, as they were not initially documented at the scene, and perhaps did not receive medical documentation either. Taking a moment to check in with yourself can tip you off to areas where contusions and other injuries will become visible later and allow you to ensure that they are documented from the beginning of the process.
Call the Police
You do not need to call the police for every accident, however, if anyone is injured, if there is significant damage or vehicle debris in the road, or if the accident is blocking a roadway, you should call the police immediately. If you elect not to call the police (such as in the case of a minor accident yielding no significant damage or injuries), you will have to file a police report independently later for insurance purposes. When the police arrive, be sure to tell them about all areas of physical pain and discomfort so that it is documented.
Collect Witnesses, Evidence, and Insurance Information
If you are able to safely move around, take note of any bystanders, pedestrians, or other drivers who may have witnessed the crash. Get their contact information and provide it to the police. Your insurance company may also request it. Also be sure to take photos and video of the scene, as well as of the license plates of all cars involved and the damage to each vehicle. Make sure to get the insurance information of the other driver. You can take a photograph of this as well to avoid any errors in transcription.
Seek Medical Attention Immediately
Even if you do not have any visible injuries it is important to seek medical attention immediately following the accident. The longer you wait after the accident, the harder it will be to get coverage for the injuries, as the other side can claim that the injuries were not caused by the accident, but by some intervening event between the time of the accident and the time of the medical evaluation. Tell your doctor about any pain and discomfort that you are experiencing, even if you are not sure it is "serious." It's always better to have documentation and not. Don't worry about seeming like you're overreacting.
Talk to a Kissimmee Personal Injury Attorney
If you have been injured in a wreck that was not your fault, you do not have to shoulder the burden alone. The Kissimmee auto accident lawyers at Draper Law Office are prepared to zealously advocate on your behalf and get you the compensation that you deserve. Schedule your free consultation today.