NHTSA Issues Report On Automatic Driving Vehicles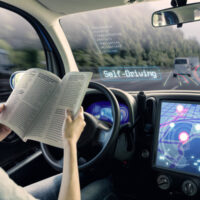 Automatic or self-driving cars are no longer a futuristic, science fiction dream. Hundreds of car manufacturers across the world now have self-driving cars that can go into autopilot mode. This type of autopilot system can control a car's speed, braking, and steering.
However, we haven't fully entered a Jetsons-like future yet. In June 2022, the National Highway and Transportation Safety Administration (NHTSA) released initial data in its investigation into the safety of automated driving systems. While this is an initial report that's meant to quickly identify potential defects in these systems, the data shows some interesting findings about these new systems.
Let's take a look at what the report says.
Tesla makes up the majority of crashes involving automated cars
One of the most interesting pieces of data is that Tesla vehicles were involved in 273 of the 392 crashes involving advanced driving assistance between July 2021 and June 2022, compared to Honda, which reported 90 accidents, and Subaru, which had 5 reported accidents.
This makes sense, because Tesla has a higher number of cars with these advanced driver assistance programs than other manufacturers, with more than 800,000 cars on the road in America.
Unfortunately, in Florida we aren't strangers to vehicle accidents involving Tesla's autopilot feature. Last year, a car running on autopilot struck a highway patrol car and could have killed the highway patrol officer if they had been in the vehicle.
NHTSA also reports that cars with automated features striking pedestrians and other emergency response vehicles.
Practice safe driving when using automated systems
When you're driving, it's always important to be alert and aware of the road. Even if your car has automated features to assist with driving, you need to be ready to step in. As the NHTSA report shows, computer systems aren't advanced enough to entirely prevent crashes.
Don't let yourself become a distracted driver. Be engaged at all times in the driving process. Be ready to step on the brakes at any time, or adjust the steering in case your car abruptly veers into another lane or on the side of the road.
While technologies like automatic emergency braking are becoming more and more common in cars, it's important to be aware of your surroundings. This is especially true in neighborhoods, where children could run into the road, or through cities that may have pedestrians stepping into the street without looking.
Similarly, know how to safely disengage your car's automated systems. Practice finding the correct button before getting onto a high-speed road or entering into heavy traffic, so that this movement will become second nature.
Even though automated cars can help you drive more safely, it's still your job as a driver to make the road safe for yourself and other people out there.
Contact us
If you've been in a car crash involving an automated or self-driving vehicle, it's important to have an experienced Kissimmee auto accident attorney working by your side. Contact us at 407-743-6628 today for a free consultation.
Source:
nhtsa.gov/press-releases/initial-data-release-advanced-vehicle-technologies
cnbc.com/2022/06/15/data-shows-tesla-accounts-for-most-reported-driver-assist-crashes-but-officials-warn-report-lacks-context.html
washingtonpost.com/technology/2022/06/15/tesla-autopilot-crashes/