Good Samaritan Killed When Stopping To Help Another Driver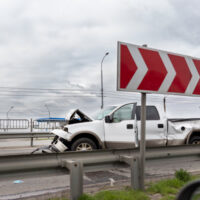 On June 13, 2022, a Jacksonville resident was sadly killed after stopping to help another driver. The Miami Herald reported that a driver of a pickup truck was the victim of a hit and run accident. The pickup truck was hit so hard, it spun around.
A 46-year-old woman parked along the road to check on the driver of the pickup truck. The two drivers were standing in a lane of traffic when another car hit the pickup truck. The truck spun again and hit the woman and the driver of the pickup truck. The woman was killed at the scene, and the pickup truck's driver was "critically injured," while the driver of the car was "seriously hurt" and also taken to a hospital.
Tips for staying safe when you're stopped on the road
Hindsight is 20/20, and it's impossible to say whether the Good Samaritan or the pickup truck driver would have been safe if they had been standing in a different spot on the road. But, it's important to be vigilant when you're stopped alongside a roadway. Here are some tips to keep you safe when you're unexpectedly stopped on the road.
If you can, move your vehicle off the road, to the right of oncoming traffic. Try to avoid leaving it along a curve or behind obstacles such as a bridge or overhang, where it won't be visible to oncoming traffic. If you're pulling over to offer help to a stopped car, move as far to the right as you can, keeping your driver's door out of the lane.
Make the vehicles visible. Turn on hazard lights and/or four-way blinkers. You should do this even during the day, because you want to alert other drivers to your presence.
It's a good idea to keep road flares, cones, or emergency signs in your car to make it clear to other drivers that there's a vehicle stopped on the road. If you have them with you, set them up on both sides of the car, at least 100-200 feet away from your vehicle.
Unless you see smoke or smell gas, everyone should stay in the car until help arrives. If you have to be out of the vehicle, stay as far away from the driving lanes as possible. Be extra aware of small children, who may act out or run around. Wear neon vests if you have them, to keep you visible to other drivers.
Avoid standing in the road unless it's absolutely necessary. Assume that other drivers are distracted and not watching the road as carefully as they should be. We don't know if the driver of the car in the accident was distracted, but we do know that 3,000 people die every year in crashes involving distracted drivers.
Contact Us
If you or a loved one were injured in an automobile accident in Florida, contact the Kissimmee auto accident attorneys at Draper Law Office today for a free consultation. We are prepared to assist you throughout each step of your case.
Sources:
cdc.gov/transportationsafety/distracted_driving/index.html
miamiherald.com/news/state/florida/article262464387.html