Not Maintaining Your Vehicle Can Cost You Big Time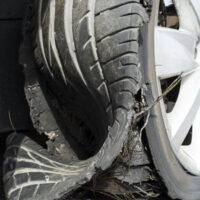 Rarely does someone get excited by the prospect of having maintenance done to their car. Even a standard oil change can be a major headache and throw off your day. It's no surprise that the majority of vehicles on the road today are in need of maintenance. However, not keeping up with regular and necessary maintenance on your car can have deadly consequences. For instance, ignoring low pressure warnings about your tires can result in a blow out. When a blowout happens on a highway, the outcome can be catastrophic, and essentially an unlimited number of people can be affected. If this occurs, the driver whose tire blew-out becomes liable for all resulting harm, which can easily exceed their insurance premiums.
If you have been injured in a vehicle collision, and suspect that improper maintenance on the part of the at-fault driver contributed to the crash, then you may have grounds to bring a personal injury lawsuit. A personal injury lawsuit aims to put you back in the position you would have been in financially had the accident never occurred. These cases can be complicated, so if you believe a lack of vehicle maintenance contributed to your harm it's important to talk to an attorney as soon as possible. The information in this article is intended to be general. However, if you would like specific information based on your particular case, you are welcome to contact Draper Law Office and schedule a personalized consultation today.
Suing for Improper Vehicle Maintenance
Suing for improper vehicle maintenance can be a complicated process, so it's important to have qualified and experienced representation. The reason it can be difficult is because in order to succeed in bringing a personal injury lawsuit for improper vehicle maintenance, you must be able to definitely establish a connection between the lack of maintenance and the harm that was caused. This can be difficult to prove, as it can be hard to establish that the driver was aware of a problem with the vehicle that they failed to address, and that if the problem had been addressed the accident wouldn't have occurred. However, an auto accident attorney specializes in these kinds of cases and will know how to perform a thorough investigation revealing what maintenance issues have been left unattended. An experienced attorney will also know experts who can help prove this connection. The key is to be proactive and take action to talk to an attorney before the statute of limitations has expired on your claim and before you are too overwhelmed by related medical and vehicle repair bills to financially recover.
Talk to Draper Law Firm
If you or a loved one have suffered injuries or even death in a car accident and you suspect improper vehicle maintenance may have played a role, it's important to talk to an experienced attorney as soon as possible. The Kissimmee auto accident lawyers at Draper Law Office are ready to go to bat for you and fight to get you the full amount of compensation that you are entitled to. Don't hesitate, contact the Draper Law Office today to schedule your consultation.