Help Now Osceola, Nicole Montalvo Foundation Bring Domestic Violence Awareness to Kissimmee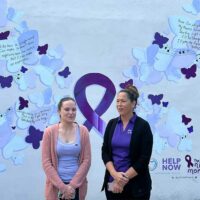 Help Now of Osceola and the Nicole Montalvo Foundation revealed their domestic violence awareness mural on Saturday at Broadway Pizza in Downtown Kissimmee facing Sproule Avenue. In attendance were the family of Nicole Montalvo, the St. Cloud mother who lost her life to domestic violence in October of 2019.
Help Now Executive Director Tammy Douglass, and Christina Montalvo, sister of Nicole Montalvo spoke to the community at the mural unveiling, reminding people that domestic violence is a year round crisis that is tragically taking place in every community in America, including Osceola County.
Andie Hinman , Community Engagement Coordinator at Help Now said, "I'm glad this project will give us an opportunity to add art to the community in a way that honors survivors and victims of domestic violence."
Help Now of Osceola is the certified domestic abuse center in Osceola County that assists survivors of domestic violence and sends a message that there is safety, empowerment and healing when they are in need.
The mural was done in partnership with local artist Jules Ross who said at the unveiling, "this is really about creating conversation and an awareness for victims of domestic violence, and as artists we tell stories, and we start conversations and I can't think of a more important conversation that I've ever been able to be a part of."
When completed, the mural will feature an interactive QR code where visitors can find resources and other answers to spread the message by using hashtag the #istandtobefreefromdomesticviolence.
For more information about help now go to helpnowshelter.org or call their their 24 hour crisis line at 407.847.8562.