Stay fit and stay healthy, enjoy the beauty of a nearby Kissimmee Trail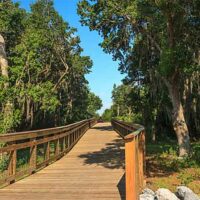 Over the last year, most of us found ourselves within our homes more than ever before. The COVID-19 pandemic had changed our lives in ways we could never have imagined. Social isolation, financial stress, and a lack of exercise were all part of what "staying home" meant. As we continue to move more toward a "normal life" again, we're looking for ways to exercise while enjoying the beauty that exists outdoors in the community we live in.
The City of Kissimmee has created an expansive trail system for walkers, bikers, and runners that combines routes through the urban core of the city with stunning segments that run through seemingly untouched parts of the natural surroundings. The two main off-street paved trails in the City of Kissimmee are the Kissimmee Loop Trail and the Shingle Creek Regional Trail.
The Kissimmee Loop Trail is a six-mile path that circles around the heart of the City of Kissimmee. This trail connects a large stretch of residential neighborhoods with Downtown Kissimmee, the Kissimmee Medical Arts District, and the Shingle Creek Regional Trail. The Kissimmee Loop Trail runs along canals, tree-lined pathways, forest-covered areas, and the John Young Parkway Pedestrian Bridge.
The Shingle Creek Regional Trail is part of a trail network in partnership with Osceola County and Orange County. The trail offers a beautiful, natural environment for cyclists, pedestrians, canoeists/kayakers, bird watchers, and nature lovers. Once complete the trail will connect Kissimmee Lakefront Park to Shingle Creek Regional Park (Ruba Park, Steffee Landing, and Babb Property), Lancaster Ranch Park, and the Orange County sections of the trail. What makes this trail unique is the way it runs through natural areas along Shingle Creek and Lake Tohopekaliga as well as urban parts of our City.
Our community is filled with natural beauty and opportunities to enjoy that beauty while staying fit and healthy.
Draper Law Office has been part of the community since 1984. We're honored to have been trusted attorneys that have provided the best in personalized legal services, in the areas of family law, personal injury, and wrongful death. in the community, we call home.
In times of need, you can trust Draper Law Office. Call 407-846-0075.
Photo Creds and Content Source: City of Kissimmee