Teen Crashes Jaguar Into Animal Clinic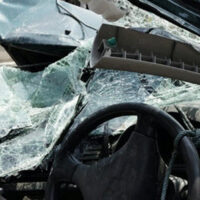 It can be fun for a teen to drive their parent's car, especially when it's a sports car or luxury vehicle. But kids should know to drive these vehicles carefully. Going 100 miles per hour in a busy intersection is a recipe for disaster.
This is what recently happened in Leesburg. An 18-year-old took his father's Jaguar for a joyride and ended up crashing it into an animal clinic. The man was seriously injured in the crash but fortunately, nobody was killed.
The accident happened on the evening of August 8 at the intersection of Martin Luther King Drive and US Highway 441. The man was in the Jaguar driving at speeds of up to 100 miles per hour when he crashed into a Cadillac Escalade SUV. The Jaguar overturned and landed against the Northgate Animal Clinic. The luxury vehicle was on its rear end, with a wheel in the wall of the building.
Employees at a nearby car rental place pulled the young man from the wreckage. He kept repeating "my papa's car" as he bled profusely. While the man did not smell of alcohol, he was not wearing a seat belt. He was airlifted to Ocala Regional Medical Center. His condition is unknown.
There were two people inside the Cadillac. Neither were injured, but the SUV's air bags deployed.
Thankfully, nobody was inside the veterinary office at the time of the crash. However, the office had problems with phone and internet service due to the accident.
Teens and Speeding
Oddly, traffic deaths surged during the coronavirus pandemic, at a time when not many vehicles were on the road due to quarantine and work from home policies. This increase in fatalities is likely due to speed. With fewer vehicles on the road, there was more room to drive faster. And while some drivers got to work more quickly, some never made it to work at all, dying in a high-speed crash.
Speeding has played a major role in teen driver fatalities in recent years. While speeding is risky for a driver of any age, between 2015 and 2019, teens and their passengers accounted for a greater proportion of speeding-related deaths than all other age groups — at a rate of 43% compared to 30%. That's because teen drivers are more likely to engage in risky behavior, such as speeding.
There are certain factors that make a teen driver more likely to die in a crash. One major factor is the presence of teen passengers. The risk of fatality increases exponentially with each teen passenger in the vehicle. Drivers in these fatal crashes tend to be males who are not wearing a seat belt.
Contact Us Today
Many teens have the need for speed and this can lead to serious accidents. Given the speed, the teen in this case is lucky to be alive.
If you have been involved in a car crash, the Kissimmee auto accident lawyers at Draper Law Office can guide you through the process of filing a claim for compensation. We're dedicated to helping you understand your rights under Florida law. To schedule a free consultation with our office, fill out the online form or call (407) 743-6628.
Source:
nypost.com/2022/08/10/jaguar-going-100-mph-crashes-into-florida-animal-clinic/