What Are The Most Common Fatal Car Accidents?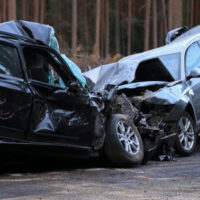 Car accidents happen all the time, and some are worse than others. There are minor fender-benders and then there are instances in which a car is totaled or even torn in half, killing the occupants.
It's a scary thing to think about, but you need to be worried about your safety every time you are behind the wheel of a vehicle. One wrong move by yourself or another driver can lead to a serious wreck and even fatality — if not you, then it could be a passenger, a pedestrian, a bicyclist, a motorcycle rider, or the occupant of another vehicle.
Dangerous Actions and Accidents
The types of accidents that result in the highest number of fatalities are head-on crashes and accidents involving semi trucks, and here's why. Head-on accidents are dangerous due to the force and impact involved. In a head-on crash, the fronts of two vehicles collide. When the collision occurs, both cars are typically traveling at high rates of speed — typically 55 miles an hour or faster. There is generally not enough time for either driver to slow down or swerve, so the vehicles collide, pushing the occupants forward. If a person isn't wearing a seatbelt, then they are generally thrown around in the car or fully ejected. In these cases, the person usually does not survive.
Semi truck accidents are also dangerous due to the sheer size of these trucks. Some have long trailers and can weigh as much as 80,000 pounds. This is compared to a standard passenger vehicle, which may weigh around 4,000 pounds. This is a huge size difference, with the semi truck possibly 20 times the weight of the smaller vehicle. As you can imagine, a crash can be deadly. A semi truck could absolutely smash a passenger vehicle and cause fatalities.
There are other types of fatal car accidents, such as the following:
Distracted driving. Many drivers are distracted by their smartphones while driving. Eating, drinking, reading, adjusting the radio, and dealing with pets and passengers can also cause distractions, which can lead to serious crashes. More than 3,000 people die from distracted driving accidents every year.
Rollover accidents typically involve one vehicle — usually SUVs. A tight corner or going off the road can cause a vehicle to roll over, killing the occupants.
Rear-end crashes. These occur when a vehicle hits the rear of another. These crashes tend to happen in high-traffic areas and can be deadly at high speeds.
Contact Us Today
Car accidents are a common occurrence. Tens of thousands of people die in motor vehicle crashes every year. Many who survive must deal with long-term or catastrophic injuries.
Contact the Kissimmee auto accident lawyers at Draper Law Office when you need a highly experienced team to handle your car crash case. Schedule a free consultation with our office today by calling (407) 743-6628 or filling out the online form.
Source:
drivesafeonline.org/defensive-driving/the-most-fatal-types-of-car-accidents/