Kissimmee Man Killed In Motorcycle Crash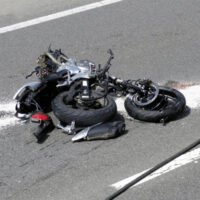 Motorcycle crashes happen on a daily basis. While they are often caused by the rider, sometimes other motorists can be at fault as well.
Sadly, this was recently the case in Osceola County. An SUV went into the same lane as a motorcycle, causing a fatal crash. The accident occurred on the evening of April 14 on Old Lake Wilson Road.
An SUV was headed south on Old Lake Wilson Road, near Teascone Boulevard. Inside were a Wisconsin man and three passengers, also from Wisconsin. At the same time, a 19-year-old man from Kissimmee was riding his motorcycle in the same direction.
The SUV then crossed through the southbound lanes to make a U-turn onto Old Lake Wilson Road. That was when it entered into the path of the motorcycle. The two vehicles collided, causing the man to be ejected from the motorcycle.
The motorcyclist died at the accident scene. Nobody inside the SUV was injured. Roadblocks were placed in the northbound and southbound lanes on Old Lake Wilson Road. Law enforcement officials investigated the accident.
Why Are Motorcycles So Hard to See?
There are several reasons why drivers may overlook a motorcycle:
Motorcycles are much smaller than cars, trucks, and SUVs, so they are more difficult to see.
Motorcycles also have a different profile. They are skinny and vertical, whereas drivers are looking for large, horizontal objects.
Because motorcycles are so small, they sometimes travel in the blind spots of other vehicles.
Motorists are looking out for other cars and not necessarily motorcycles, as they are not as common.
Dark-colored motorcycles tend to blend into the background, so they can be difficult to see.
Motorcycles frequently move around within a lane, so they may seem to appear out of nowhere.
Motorists are more likely to look for motorcycles during spring and summer but not as much in poor weather conditions, such as during fall and winter.
Motorcycles often seem further away than they really are, so it can be difficult for motorists to accurately judge a motorcycle's speed.
Weather conditions such as sun, glare, and rain can make it harder to see motorcycles.
It's just the way our bodies work. The brain and eyes don't always work together, so there can be differences in vision and perception. There are things that are so small and move quickly enough that we don't necessarily "see" them even when they are right in front of us.
Contact Us Today
Motorcycle accidents can happen in an instant. When a much larger vehicle, like an SUV, enters the path of a motorcycle, the result can be fatality.
Have you been involved in a motorcycle crash? If so, the Kissimmee motorcycle accident lawyers at Draper Law Office can assist you. We understand that motorcycle riders are not always at fault and will work hard to prove your case. To schedule a free consultation with our office, fill out the online form or call (407) 743-6628.
Source:
clickorlando.com/news/local/2023/04/15/19-year-old-motorcyclist-killed-in-osceola-county-crash/