Man Killed In Tow Truck/Water Truck Crash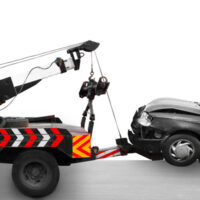 When a large truck collides with a small vehicle, the outcome is often negative. When two large vehicles collide, the result could also be serious injuries or fatalities.
Unfortunately, this was recently the case in Kissimmee. A man was killed after his tow truck collided with a water tank truck. The fatal accident occurred on the morning of July 24 at Poinciana Parkway and Marigold Avenue.
A 65-year-old man from Winter Park was driving a water tank truck north on Poinciana Parkway. He was in an active construction zone as he approached Marigold Avenue. At the same time, a 24-year-old man from Ohio was driving a tow truck and hauling a Mercedes Benz CLA-Class. He was heading in the same direction.
That was when the water tanker truck switched lanes and entered the inside lane into the direct path of the tow truck. The two vehicles collided. The man driving the tow truck was ejected from the vehicle. He died at the accident scene. The driver of the water tank truck was taken to a local hospital and treated for serious injuries.
Dangers of Merging Lanes
Improper lane merges are some of the most common causes of accidents. These crashes are particularly common on highways, where vehicles are traveling at high speeds. This means making a lane change or merging onto a highway can be deadly.
Sometimes lane changes are unintentional. They may be caused by fatigue, in which a driver falls asleep while behind the wheel. They may also be caused by distracted driving, in which a driver is multitasking while driving. They may be using a phone or other electronic device. They may also be eating, reading, adjusting the radio, or talking to passengers.
Here are some tips to stay safe while merging:
Recognize who has the right of way. On a highway, merging takes place in three ways: merging when joining a highway or freeway from an on ramp, moving from an existing lane to an adjacent lane, and merging into a lane when your own lane is about to end. It is important to know which vehicle has the right of way.
Use your signal. It's easy to forget to use your turn signal before merging, but you shouldn't. Be sure to signal your intentions to other drivers well in advance so they can slow down and let you into the lane, if necessary. If you wait too long, drivers won't know what you're doing and this can cause chaos.
Check blind spots. While you should always use your mirrors, blind spots can still emerge. Be sure to turn your head and physically look before merging. Do not assume anything. Check thoroughly for other vehicles before executing a merge or lane change.
Contact Us Today
Drivers need to be careful when changing lanes and merging. When other vehicles are already in the lane, you need to yield and wait your turn or else you could get into a catastrophic or deadly accident.
If you are involved in a crash, you may be able to receive compensation for damages. The Kissimmee auto accident lawyers at Draper Law Office can help you through your recovery. Our experienced team is familiar with all the processes. To schedule a free consultation, call (407) 743-6628 or fill out the online form.
Source:
clickorlando.com/traffic/2023/07/24/24-year-old-tow-truck-driver-killed-in-osceola-county-crash/