Tips For Safe Bicycle Riding In Florida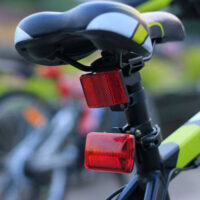 Summer is here. Few things are better in the Sunshine State than taking your bicycle out for a spin. Unfortunately, Florida leads the nation for bicycle fatalities. Here are some tips for bicyclists and drivers to keep the roads safe.
How bicyclists can stay safe on the roads
Bikers should make sure their vehicles meet Florida safety guidelines. Specifically, bicyclists should use a headlight while the sun is set, which lets other vehicles see them at night. Additionally, all bikes should have reflective lights and working breaks.
Although Florida doesn't require cyclists over 16 years old to wear helmets, wearing one can minimize injury and can even save your life if you're hit by a car.
When on the road, bicyclists should obey all traffic signs and signals, including stop signs and traffic lights. Bikers can use hand signals to let other vehicles around them know their intention to turn or go straight at an intersection. Be aware that cars may not signal at intersections, so be prepared to stop or swerve if a car starts to turn in front of you.
Bikers should ride single file, as close to the right-hand side of the lane as possible if there isn't a bike lane. If there is a bike lane, look ahead to make sure there aren't vehicles blocking the lane.
Bicyclists should take particular care when cars are parked along the street to the right. People getting in and out of cars may open their doors suddenly, without looking around them.
How drivers can make the roads safer for cyclists
Florida law requires cars and bikes to share the road. It may not be pleasant to be stuck behind a cyclist, but drivers need to remember that the road isn't just for them.
If you're driving a car, don't put yourself aggressively close to a cyclist. Instead, wait until the lane to your left is clear and give yourself plenty of room to pass the bicycle.
Drivers should also practice situational awareness when they're behind the wheel. If you're backing out of a driveway or parking space, keep an eye out for other vehicles, motorcycles, bicycles, and pedestrians.
Don't take blind corners too sharply – leave space, especially on the right, in case there's a slower moving vehicle on the other side of the turn. Similarly, when making a right turn at a light, double check there aren't any bicycles in your blind spot.
Additionally, drivers should make it obvious any time they are changing lanes or turning. Using turn signals will signify your intentions, allowing other vehicles, including bikes, on the road to give you room.
Finally, don't drive or park in a bike lane. Keep these areas clear for bicyclists.
Work with an experienced bicycle accident attorney
Bicycle accidents can be particularly dangerous, given the size disparity between a bicycle and a car. If you've been hurt in a bicycle accident, working with an experienced Kissimmee bicycle accident attorney can help you get the help you deserve. Contact Draper Law Office for a free consultation about your options today.
Sources:
wftv.com/news/local/florida-remains-most-dangerous-place-america-bicyclists-pedestrians-new-data-shows/URLWVNTIDFB7ZJVW2KC5GS43BA/
leg.state.fl.us/statutes/index.cfm?App_mode=Display_Statute&URL=0300-0399/0316/Sections/0316.2065.html
nhtsa.gov/staticfiles/nti/pdf/8009-HandSignals.pdf
allstate.com/resources/car-insurance/safely-sharing-the-road-with-bikes