Renting A Car After A Car Accident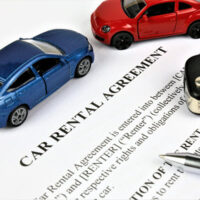 If your car was damaged in a car accident, especially if it wasn't your fault, it can feel like an added insult to injury to figure out a rental car while your car was in the shop. Fortunately, rental car companies are aware of this need. They can help you figure out certain logistics after an auto accident, including picking you up and dropping you off from the repair shop.
It's estimated that the average repair after a car crash takes two weeks. Here's what you should know about who covers the costs.
How your insurance can pay for the rental car
If your personal automobile insurance includes rental reimbursement, it may pay for you to rent a vehicle while your car is in the shop after a car crash. Rental reimbursement isn't a standard feature of most insurance policies. If you want to add this to this policy, you'll have to pay extra.
Rental reimbursement doesn't normally allow you to rent the nicest car on the lot. It's important to understand what your daily limit is when renting a car, and how long you can rent a car that is covered by your policy.
When you rent a car after an auto accident, you might need to rent from a specific rental company that has a contract with your provider. Many times, rental companies can bill the insurance company directly, saving you some cash. In other situations, you may need to pay out of pocket for your rental and apply for reimbursement from your company.
How the other driver's insurance can pay for the rental
If the other driver was at fault in the accident, their insurance company should cover the cost of the rental. When you book your rental car following a crash, you should talk to the insurance company about your options.
Depending on the situation, a few things could happen. The rental car company could agree to delay billing while you're negotiating details with the other driver's insurance company. Alternatively, you may be responsible for paying out of pocket for the rental and getting reimbursement later on.
In either situation, you should keep all the papers relating to the rental. You may need these when sorting out the final bill with the other driver's insurance company.
How a personal injury attorney can help with your rental car
If insurance companies moved at the speed of business and paid every claim as they are supposed to, personal injury attorneys would need to find a new line of work.
The other driver's insurance company may drag their feet in paying rental car reimbursements or try to encourage you to accept less than you paid. You may find yourself having similar disagreements with your own insurance company.
Negotiating with insurance over rental car costs can be a headache. Hiring a Kissimmee auto accident attorney can help you sort out the details and, in some cases, help you avoid paying out of pocket for claims that insurance should rightfully cover.  The Draper Law Office can help – call today.