Which Vehicles Are More Likely To Be Involved In Fatal Accidents?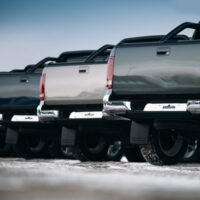 Fatal accidents happen on a daily basis in Florida. These crashes can happen in a number of ways. They may be caused by intoxication, fatigue, not following traffic laws, inexperience, and medical issues.
Statistics show that fatal car accidents are more likely to occur based on the type of vehicle. You may think that sports cars are most likely to be in crashes due to their speed and performance. However, it's the everyday cars, trucks, and SUVs on the roadways that are the deadliest.
Today's modern vehicles have so many safety features for occupants. Still, tens of thousands of people are killed in crashes every year in the United States. Interestingly, certain models of vehicles are more likely to be involved in accidents. Sedans and pickup trucks account for more than three-quarters of fatal accidents.  If you drive out on the roadways, here's what you need to know about which brands are most likely to get in a wreck.
Ford
Ford has several models that have the highest number of fatal crashes. Here are the statistics for three models between 2017 and 2019:
Ford F-150: 7,502 accidents
Ford Explorer: 3,139 accidents
Ford F-250: 2,859 accidents
Due to this risk, Ford F-150 insurance rates are higher than average, at $177 per month.
Chevrolet
While the Chevrolet Silverado has the highest number of fatal accidents out of all vehicles, Chevrolet ranks at #2 overall. Here are the statistics of three models over the same 2017-2019 period:
Chevrolet Silverado: 8,777 accidents
Chevrolet Impala: 2,765 accidents
Chevrolet Malibu: 2,548 accidents
Surprisingly, though, insurance rates for the Silverado and Impala are below the national average, at under $150 per month. That's because Chevrolets are generally easy to repair, and this keeps auto insurance rates low.
Honda 
Honda is known for its reliable vehicles, but they still get into fatal crashes. While the Honda Civic was a top safety pick for 2022, thousands of Civics were still involved in fatal accidents between 2017 and 2019. Here's a breakdown:
Honda Accord: 5,368 accidents
Honda Civic: 4,648 accidents
Honda CR-V: 1,867 accidents
While Honda Accords in particular are involved in many fatal accidents, auto insurance rates for Hondas are still pretty affordable. Drivers typically pay between $100 and $130 a month to insure the Accord, Civic, or CR-V.
Toyota
Toyota also makes the list because one model in particular — the Camry — was involved in more than 5,000 fatal crashes over the 2017-2019 time period. Here's a list of Toyota's top three vehicles:
Toyota Camry: 5,023 accidents
Toyota Corolla: 3,641 accidents
Toyota Tacoma: 1,984 accidents
The Toyota Tacoma has some of the lowest fatality rates when it comes to light pickup trucks. Also, insurance rates for Tacomas are fairly, at an average of  $112 a month.
Contact Us Today
Many popular types of vehicles are involved in fatal car crashes. It's not just sports cars and other fast vehicles.
If you or a loved one was killed in a car crash, seek legal help from the Kissimmee auto accident lawyers at Draper Law Office. We'll help you get compensation. To schedule a free consultation, call (407) 743-6628 or fill out the online form.
Source:
autoinsurance.org/which-auto-makes-get-in-the-most-fatal-accidents/