1 Killed In 3-Vehicle Crash In Coconut Creek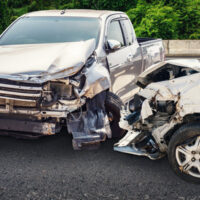 Driving is a privilege, not a right. Those who travel on Florida's roadways need to focus on the road at all times. When they lose control for any reason, they can injure or kill themselves or others.
Three vehicles were recently involved in a crash in Coconut Creek, killing one person and injuring another. The fatal crash occurred on the afternoon of September 15 on Sample Road.
A Toyota was heading east in the 4800 block of Sample Road when it lost control. It crossed over the median and hit a Dodge pickup truck head-on. A Honda sedan then rear-ended the truck.
Police and fire units responded to the accident. The driver of the Toyota, an unidentified woman, was killed in the crash. She died at the accident scene. The driver of the truck, also a woman, was taken to Broward Health North with unknown injuries. She is currently in stable condition.
Sample Road from Lyons Road to Banks Road was closed for several hours as police investigated. The roads reopened that evening.
What Causes Drivers to Lose Control?
When all motorists are in control, everything goes smoothly. Everyone can get to their destination safely. When they don't, things can spiral downhill quickly, leading to serious crashes. A driver may lose control for several reasons, including:
Going too fast makes it harder to stay in control, especially around curves.
Being under the influence of alcohol or drugs makes it harder for a driver to stay in their lane.
Inclement weather conditions. Weather conditions such as ice and rain can make roads slick.
Poor road conditions. Hitting gravel or potholes can cause vehicles to lose control.
Mechanical failures. Tire blowouts and brake failures make it easier to lose control.
Oversteering and understeering are two other factors involved in accidents caused by loss of control. These factors are especially seen in cases where the driver is making turns while speeding, going around curves, or driving in poor weather. It is important to slow down and not turn the steering wheel too abruptly to avoid an accident.
You can also protect yourself while on the road by doing the following:
Avoid tailgating. Give other motorists plenty of space in case they need to make sudden moves.
Avoid distractions. Driving is an activity that requires a lot of focus, so keep your eyes on the road at all times.
Drive defensively. Be aware of how others are driving and use caution near drivers who are speeding or engaging in other reckless driving behaviors.
Contact Us Today
Motorists need to be in control when driving their vehicles. Loss of control can cause serious accidents.
The Kissimmee auto accident lawyers at Draper Law Office can help you navigate the complexities of Florida law and determine liability so you get the compensation you deserve. Fill out the online form or call our office at (407) 743-6628 to schedule a free consultation.
Source:
wsvn.com/news/local/broward/1-dead-1-hospitalized-after-3-car-crash-in-coconut-creek/