Train, Vehicle Collide In Kissimmee, Killing 1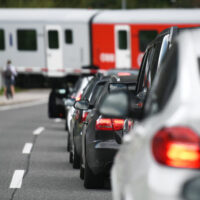 Dealing with a train when you're in a hurry can be a frustrating situation. Many drivers try to find ways to beat the train, but this hardly ever works out. The train cannot slow down in time, hitting the car and causing fatality.
Sadly, this was recently the case in Kissimmee. A vehicle and SunRail train collided, killing one person. The fatal accident occurred on the evening of August 16 near East Vine Street.
The train was heading north when it collided with the vehicle. The driver of the car died at the accident scene. There were 11 people aboard the train at the time of the crash. No passengers or SunRail employees were injured.
No problems were found with the railroad tracks or crossing arms, so it's possible that the driver tried to beat the train. The intersection at Michigan Avenue and East Vine Street was closed for several hours as police investigated.
Railroad Intersections
Crossing a railroad track should not be that hard, since there are crossing arms and lights in place to warn drivers of trains. However, many drivers are impatient. They may be running late and don't want to wait several minutes for a train. They may think they can beat the train, but most of the time, they are wrong.
When approaching a railroad intersection, motorists need to think about their safety first. Trains are often much closer than they appear. Trains move much faster than most people think and are much larger than passenger vehicles. Plus, trains cannot stop quickly, so those who attempt to cross a railroad track at the wrong time cannot expect a conductor to stop the train on a dime. When the two vehicles collide, the train will win, hands down. The passenger vehicle will get crushed and the occupants will most likely get killed. Those who survive suffer from catastrophic injuries that may require long-term care.
But there are sometimes other factors at play. Some railroad crossings do not have adequate signs or signals to alert drivers of approaching trains. Darkness can also be an issue. Train conductors often have more difficulty operating trains at night, when visibility is low. They have to be more cautious and it can be dangerous when train conductors are unable to see people or objects on the tracks.
There could be other issues, such as the construction of the tracks and electronic malfunctions. Because of these issues, drivers need to pay attention when crossing railroad tracks.
Contact Us Today
Drivers need to be cautious around railroad tracks. They should obey crossing arms and signals and never try to go around them in an effort to beat the train.
If you have been involved in a crash, it's important to determine liability. The Kissimmee auto accident lawyers at Draper Law Office can help you get financial recovery for all your damages. Call (407) 743-6628 or fill out the online form to schedule a free consultation.
Source:
fox35orlando.com/news/1-dead-after-sunrail-train-crashes-into-vehicle-in-kissimmee-police-say