Deadliest Intersections In Florida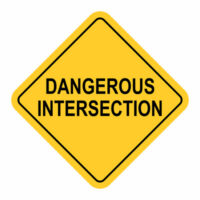 When cars and people collide, the results can be catastrophic or even fatal. That's why you want to avoid intersection accidents. There may be two-way, three-way, or four-way stops, combined with pedestrians crossing roads. There may be bicycles as well.
On top of all this activity, drivers are not always paying attention. They may be talking to passengers, distracted by smartphones, or lost and looking for a particular location. Some drivers speed and change lanes in or near intersections, making the situation even worse.
Complicating matters further is the fact that right of way at intersections can be murky. When two or more vehicles arrive at the intersection at the same time, who goes first? Who can go left or turn right? This can vary from one intersection to another.
Indeed, navigating intersections can be a real headache. Crashes at intersections can be deadly. In fact, more than one-quarter of fatal car accidents happen at intersections. There are many deadly intersections in Florida. Here's a look at some of them.
Tampa
Tampa has its share of risky intersections. The deadliest one is the intersection of Hillsborough Avenue and Fletcher Avenue, which has caused 15 deaths since 2012. There is a huge volume of traffic in the area, as Hillsborough Avenue is also a major thoroughfare. Plus, there are no traffic lights or left turn lanes to alleviate the headaches of driving.
Miami
Miami sees a lot of devastating traffic accidents, and the worst ones happen at Brickell Avenue and Southwest 2nd Street. In 2016 alone, there were five deaths and 24 injuries at this intersection.
Fort Lauderdale
The intersection of Dixie Highway and Commercial Boulevard is one of the most dangerous in Broward County. In 2017 alone, there were eight fatalities at this intersection. Commercial Boulevard sees a high volume of traffic.Plus, there is no traffic light at this intersection, making it harder to navigate.
West Palm Beach
The most dangerous intersection in West Palm Beach is Jefferson and Palmetto boulevards. In 2016 alone, there were 15 deaths at this intersection. The intersection sees a lot of traffic and has no traffic lights or left turn lanes for safer navigation.
Pensacola
Pensacola also has its fair share of deadly intersections, particularly Pensacola Boulevard and Fairfield Drive. It is ranked as one of the most dangerous intersections in Escambia County in terms of driver safety. This intersection has no traffic lights, which makes everyday driving a challenge.
Pembroke Pines
The intersection of Flamingo and Stirling roads has seen 11 fatalities and 21 injuries since 2012. There is a lot of traffic in the area due to the multitude of high-end stores and restaurants. Plus, Coral Springs and Hollywood are two major streets that intersect with Flamingo Road.
Contact Us Today
Many car accidents happen at intersections. It's important to be extra careful when driving in these areas, as not all drivers follow traffic laws.
The Kissimmee auto accident lawyers at Draper Law Office can handle your accident case. Make sure you get the compensation you deserve. To schedule a free consultation, fill out the online form or call (407) 743-6628.
Source:
speedwaymedia.com/2022/07/27/the-deadliest-intersections-in-florida/