Driving Dangers: Animals In The Roadway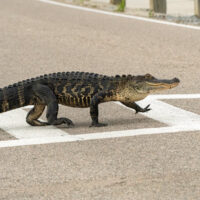 Car accidents happen on a daily basis. While most crashes involve other vehicles, millions involve another hazard: animals. If you live in a suburban neighborhood, cats and dogs may be familiar sights on the roadways. In more rural areas, coyotes, deer, rabbits, raccoons, and possums may be more common. And don't forget that Florida is home to unique animals such as alligators and armadillos as well. Many people have been killed by hitting these animals while riding motorcycles.
While hitting a small animal may not be a huge deal, hitting a deer, elk, or moose can be a dangerous situation that can lead to property damage and severe injuries. See how you can stay safe and avoid accidents with the many creatures that inhabit Florida.
How to Avoid Hitting Animals
Animals can appear on Florida roadways at any time. Here's how to stay safe:
Consider whether swerving is a good idea. A driver's first instinct when trying to avoid something in the road is to swerve. While this may be a good idea if there are no other vehicles on the road, you have to consider whether or not it is safe to do so. If swerving will make your vehicle go off the road or hit something else, like a tree or pole, then is it really worth it?
Slow down. Put on the brakes as soon as you see the animal and you may be able to avoid hitting it. Just be careful if there are vehicles behind you, as they may not be able to react in time. Also, don't brake so hard that you skid and lose control.
Hit the animal if necessary. Remember that your own life is more important than the animal's. Sure, nobody wants to kill Bambi, but if you have no other options, just slow down as much as possible and prepare for the impact.
Prepare for larger animals. Larger animals such as deer and elk can cause a lot of damage to a vehicle and even go through the windshield, injuring the driver and occupants. To prepare for the impact, it's a good idea to lower your body into the seat as far down as possible. Try to have the dashboard cover your body as much as possible. This will make you less likely to be injured.
Use caution when approaching animals. If you think you may have hit someone's puppy, you may feel compelled to find the owner and ensure the animal gets medical treatment if it's still alive. If you do decide to check on the animal, use caution. You may opt to call animal control instead so they can locate the owner.
Contact Us Today
Florida roads often have many hazards. While other cars tend to be the biggest hazards, animals—especially large ones—can cause a significant amount of damage.
The Kissimmee auto accident lawyers at the Draper Law Office can help you understand the steps to take after an accident with an animal. Schedule a consultation by filling out the online form or calling (407) 743-6628.