Kissimmee Man Killed In Motorcycle Crash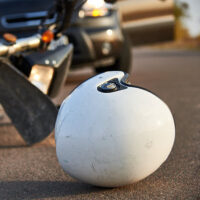 Motorcycles are fun but dangerous. These vehicles are small but powerful. Lack of attention or one wrong move can lead to a serious or fatal crash.
Sadly, this recently happened in Florida. A man was killed after rear-ending a car in Orlando. The fatal accident occurred on the morning of January 8 on South Orange Avenue.
A 22-year-old man from Kissimmee was on a motorcycle traveling south on South Orange Avenue. He was behind a sedan that was driven by a 26-year-old man from Deltona. The motorcycle rider failed to stop for the sedan, causing his motorcycle to rear-end the car.
The man was ejected from the motorcycle. He was taken to a local hospital, where he later died.
The driver of the sedan remained at the accident scene. He was wearing a seat belt and was not injured. The crash is still under investigation.
Why Rear-End Accidents Are So Common
Rear-end crashes occur frequently. In fact, they are the most common type of crash. But why?
Rear-end collisions are common on highways and other busy roads due to the following:
High-speed vehicles combined with low-speed vehicles
Traffic congestion that suddenly causes traffic to come to a stop
Construction zones
Distracted driving
Poor use of cruise control
The most common causes of rear-end accidents are:
Distracted driving. This is very common, with close to 90% of rear-end crashes caused by distractions.
Aggressive driving. Tailgating, stopping suddenly, and speeding can all cause rear-end accidents.
Drunk driving. Intoxication can lead to a reduction in judgment and coordination, causing rear-end crashes.
Driver fatigue. An overly tired driver is more likely to get into a crash.
Hazardous weather conditions. Ice and heavy rain can make driving unsafe, leading to rear-end crashes.
Rear-end crashes often occur due to the following:
A vehicle was driving at a high rate of speed when it crashed into a vehicle that was completely stopped.
A vehicle was traveling faster than the vehicle in front and both vehicles collided while in motion.
The rear driver rolled forward into the front driver's car.
The first two scenarios are the most dangerous because of the speeds. High speeds can cause significant impact to one or both vehicles. This force can cause the vehicle to run off the road or overturn, causing significant injuries or fatalities. These accidents are even more severe in cases where one vehicle is larger than the other, such as a car vs. motorcycle accident or a car vs. semi truck crash.
Contact Us Today 
Motorcycle riders need to be aware of other vehicles on the roadway. In just a split second, a vehicle may pull out in front of you or crash into you.
Motorcycle accidents can be catastrophic or even deadly. A Kissimmee motorcycle accident lawyer from Draper Law Office can assist you with your claim and ensure you get full and fair compensation for your damages. To schedule a free consultation, call (407) 743-6628 or fill out the online form.
Source:
clickorlando.com/traffic/2023/01/08/kissimmee-man-dies-after-motorcycle-rear-ends-car-in-orange-county-troopers-say/