2 Killed In Head-On Crash In Osceola County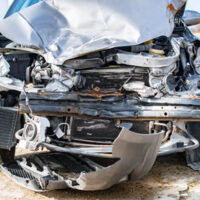 It's important to be careful when passing other vehicles. If you don't do it quickly enough, you may hit someone head on.
Sadly, this was recently the case in Florida. A woman and her infant niece were killed in a head-on crash on State Route 60. The fatal accident occurred on the morning of January 19 near Kenansville.
A 22-year-old woman, a 4-month-old girl, a 1-year-old girl and the woman's adult sister — all from Miami — were riding in a Nissan Altima. They were heading east along State Road 60. At the same time, a Mazda SUV was heading west on the same road. The Altima went into the westbound lane to pass another vehicle, hitting the Mazda head-on.
The Altima went off the road and overturned, with the Mazda coming to a rest nearby. A Toyota Tacoma and a sedan hit debris from the accident, but nobody inside those vehicles were injured.
The 22-year-old woman driving the Altima and the 4-month-old passenger — her niece — died
at the accident scene. The 1-year-old and the adult female passenger were hospitalized with critical injuries. The 4-month-old girl was the adult passenger's daughter, while the 1-year-old girl was the driver's daughter.
The driver of the Mazda was also hospitalized in critical condition. The passenger in the Mazda was seriously injured but is currently in stable condition.
The roadway was closed as police investigated the crash. The accident is still under investigation.
What to Know About Head-on Crashes
Head-on accidents occur when the front of two vehicles collide. They are some of the most dangerous types of crashes. Even at lower speeds, these accidents can be dangerous, causing catastrophic injuries.
Head-on accidents are often caused by driver negligence. Some common reasons include:
Improper passing. Drivers often misjudge the amount of time they have to safely pass on a two-lane road. When they are not careful, they can collide head-on with an approaching vehicle.
Distracted driving. Using a cell phone while driving is one of the most dangerous things a person can do while driving. Other distracted driving behaviors include eating, drinking, reading, adjusting the radio, or looking at a GPS. These actions can all cause a driver to veer into the adjacent lane.
Drunk or drugged driving. This can greatly affect drivers while behind the wheel. Intoxication reduces driving skills in many ways and can possibly cause a head-on crash.
Driving in the wrong direction. Many tragic head-on collisions occur when a motorist gets confused, tired, or intoxicated and drives the wrong way on a one-way street or highway. These crashes tend to occur late at night or in the early morning.
Contact Us Today
It's important to be careful when passing and engaging in other dangerous maneuvers. Poor judgment can lead to a head-on crash, which can be fatal, as seen in this case.
Car crashes can cause serious injuries. If you have suffered damages, contact a Kissimmee auto accident lawyer from Draper Law Office for legal help. We'll provide you with exceptional representation. Fill out the online form or call (407) 743-6628 to schedule a free consultation.
Source:
clickorlando.com/traffic/2023/01/19/1-child-1-adult-killed-in-osceola-county-crash-troopers-say/