How To Protect You And Your Family From Uninsured Drivers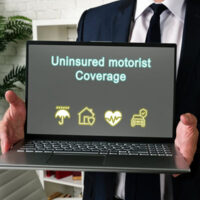 In Florida, drivers are required to have a minimum amount of insurance. The minimum requirements are $10,000 per person for bodily injury, $10,000 for property damage, and $20,000 liability per accident.
However, not every driver has insurance. Florida has an especially high rate of uninsured motorists. The uninsured motorist rate in Florida is 20.4%, which means 1 in 5 drivers have no auto insurance.
What this means is that if you are involved in a car accident with an uninsured motorist, they won't be able to pay up, leaving you stuck with all the expenses. You could file a personal injury lawsuit against them, but if you don't have car insurance, they likely do not have much in assets. It will likely be a waste of time and resources.
This is why all drivers should have uninsured motorist insurance. This coverage acts as a safety net if you are injured by a driver who has little insurance or none at all. Uninsured motorist insurance pays for your damages caused by an uninsured driver. It takes the place of the other person's missing or insufficient liability coverage, if the other driver is at fault. That's important because your own liability insurance might not cover all the damages that you and your passengers may suffer if you're not at fault. This is your best defense against another driver's inadequate insurance, since there's nothing you can do to keep these drivers off the road.
What Does Uninsured Motorist Coverage Pay For? 
Uninsured motorist insurance pays for the following: 
Medical bills
Lost wages
Disability
Long-term nursing care
Wheelchairs and other medical devices
Pain and suffering
Loss of enjoyment of life
Services for things you are no longer able to do, such as house cleaning, yard work
Costs associated with retro-fitting your house to accommodate disabilities
Death
Note that uninsured motorist coverage does not pay for damage to your vehicle. That is why you should have collision coverage as well.
However, the main benefit is that this coverage follows you and your family, not your vehicle. So you're still covered by this insurance even if you're not in your vehicle and injured in a bicycle or pedestrian accident.
This is true even for your children. If they are hit by a car while walking to school or riding their bicycle, then they will be covered under your uninsured motorist coverage. So that's a great way to protect them and ensure an accident doesn't cause severe financial consequences for your family. It is recommended that you purchase uninsured motorist insurance with the same limits as your own liability coverage.
Contact Us Today
A car accident can happen at any time. Make sure you protect your family with uninsured motorist insurance.
Car crashes involving an uninsured driver can be tough to handle. Get the legal help you need from a  Kissimmee auto accident lawyer from Draper Law Office. We'll help you work through insurance issues so you move on easily after an accident. Schedule a free consultation today by filling out the online form or calling (407) 743-6628.
Source:
consumerreports.org/cro/news/2015/03/how-to-protect-yourself-against-uninsured-drivers/index.htm#:~:text=Buy%20uninsured%20motorist%2Funderinsured%20motorist,coverage%2C%20if%20he's%20at%20fault.