Man Killed In Bicycle Accident In Buena Ventura Lakes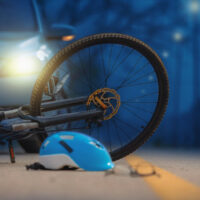 Bicycles are much smaller than passenger vehicles, so they have a high risk of being involved in an accident. Sadly, these crashes are often deadly.
This was recently the case in Osceola County. A man was killed while riding next to an SUV in Buena Ventura Lakes. The fatal crash happened on the morning of October 27 on Buenaventura Boulevard, near Majors Lane.
An SUV was traveling west on Buenaventura Boulevard when a bicyclist entered the same lane in front of the SUV. However, the bicycle did not have any lights on it, so the driver of the SUV could not see the bicyclist. The front right of the SUV hit the bicyclist. The bike rider, an 82-year-old man from Kissimmee, died at the accident scene.
The driver of the SUV remained at the accident scene. They were not injured in the crash. It is unknown if they will face any criminal charges. The westbound lanes of Buenaventura Boulevard were closed for several hours as  Florida Highway Patrol troopers investigated the accident.
Bicycle Riders and Lack of Visibility
Many riders think they are visible simply because they have reflective lights on their bikes. The truth is that bicycles are not very visible to motorists. When people are behind the wheel, they are often dealing with problems subconsciously. They don't tend to look for smaller vehicles like bicycles and motorcycles. They are looking for other vehicles. Drivers are focusing on places where another car could show up.
Surprisingly, bicycle crashes don't always happen on curvy roads or in intersections. In fact, roughly half of these accidents occur on straight roads. The reason: the driver simply did not see the bicycle.
Bicyclists tend to overestimate their own visibility. They perceive reality from their own point of view, thinking they are more visible than they actually are. But the truth is that, from the eyes of a driver, they blend in with their surroundings.
Studies show that bicyclists can improve their visibility by using fluorescent colors. They can be seen better and at a greater distance by drivers. The best colors are orange and yellow, which are very rare in nature and are often associated with warning signs. Fluorescent tights are the best pieces of clothing to wear, as they are much easier to spot than fluorescent jackets. However, bike riders need to keep in mind that fluorescent colors don't work at night, since the headlights on a car don't emit UV rays.
Contact Us Today 
Bicycle accidents are common incidents due to a lack of visibility. It is important for riders to ensure they can be seen by others, especially when traveling in dark conditions.
If you have been involved in a crash, seek legal help from the Kissimmee auto accident lawyers at Draper Law Office. Our team will work hard to get you the compensation you deserve. Schedule a free consultation by filling out the online form or calling (407) 743-6628.
Source:
clickorlando.com/traffic/2022/10/27/fatal-crash-shuts-down-road-in-buena-ventura-lakes/