Man Killed In Motorcycle Accident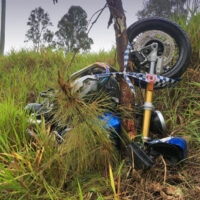 Motorcycles can be fun to ride in the warm Florida sun, but they are easy to crash. These two-wheeled machines require significant training and know-how to ride properly, as they are not the same as passenger vehicles. One wrong move can lead to fatality.
This was recently the case in Orlando. A man from Kissimmee was killed after he was ejected from his motorcycle. The fatal accident occurred on the morning of November 5 at Palm Parkway and Grapefruit Cove.
A 32-year-old was traveling south on Palm Parkway when he lost control of his motorcycle. The front of the bike hit a curb, causing it to run off of the road toward the right. The motorcycle then overturned, ejecting the man. The man then hit a tree. He was taken to a local hospital, where he later died. He was wearing a helmet at the time of the crash. The accident is still under investigation.
Hitting a Curb
In a passenger vehicle, hitting a curb can leave you with significant damage. Hitting a curb can bend your rims and cause sidewall damage to your tires. It can also throw your car's alignment out of whack. This can cause your steering wheel to pull over time.
If you hit a curb while on a motorcycle, you probably caused some damage. Because you only have two wheels, you do have to worry about balance and alignment issues. Your tire likely won't go over the curb unless you're going pretty fast, so you're going to hit it head-on. The impact will cause you to get ejected from the bike. You could end up hitting an object, like the man did in this instance. You could get seriously injured or killed.
After such an accident, you probably scratched up your bike or even broke something. It's a good idea to get your motorcycle checked out by a certified mechanic. If you don't, you could have issues that could cause even more issues and even lead you to get into another accident.
If you fell off your bike after hitting a curb, you'll want to get checked out as well. Most motorcycle accidents — 80% or so — result in injuries or fatalities. Some injuries do not present themselves right away. You might have soft tissue injuries in the back or neck and not even know it. You may even have internal injuries, such as bleeding or organ damage. You don't want to wait weeks to see the doctor. It's best to seek medical attention as quickly as possible to protect your legal rights and get full compensation.
Contact Us Today 
Motorcycle accidents can happen quite easily. Even striking a curb at the wrong angle can lead to serious crashes and injuries.
The Kissimmee motorcycle accident lawyers at Draper Law Office can assess your case so you can get full and fair compensation for all your injuries and damages. To schedule a free consultation, call (407) 743-6628 or fill out the online form.
Source:
clickorlando.com/traffic/2022/11/05/kissimmee-man-32-dies-after-striking-tree-during-motorcycle-crash-in-orange-county-fhp-says/