Why You Need Uninsured Motorist Insurance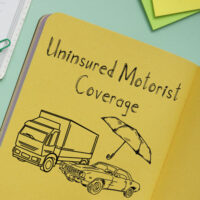 Auto insurance is so expensive. The average driver in Florida spends roughly $200 a month to insure their cars and trucks, so you'll likely want to save as much money as possible in this area.
Each state has different minimum insurance requirements. In Florida, as a driver, you must have a minimum of $10,000 for personal injury protection and $10,000 for property damage liability. Your insurance will also try to get you to pay for uninsured motorist insurance. You can't possibly afford any unnecessary auto insurance, right?
While you can reject uninsured motorist coverage in writing, it's not really in your best interest to do so. Just because uninsured motorist coverage is not required does not mean it's unnecessary.
Keep in mind that Florida has one of the highest rates of uninsured motorists in the country, at roughly 27%. This means that 1 in 4 drivers in the state has no insurance. If you get in an accident with someone who doesn't have adequate auto insurance, your damages may not be covered. You may end up having to pay out of pocket – and not just a few bucks. It could be hundreds or even thousands of dollars, depending on the severity of your injuries.
What Uninsured Motorist Coverage Does
Uninsured motorist coverage essentially takes over when the other driver has no insurance. In a typical car accident case, the at-fault driver would have insurance to help pay for the damages. However, if the driver has no coverage, you would have to try to seek reimbursement through a lawsuit, which could be futile. Instead, you would just use your uninsured motorist coverage to pay for your medical bills, car repairs, and other damages.
Uninsured motorist coverage can also be helpful in the event of a hit and run. Since the driver has fled the scene, you don't have their insurance information. However, you don't need it as long as you have uninsured motorist insurance. Your insurance company will pay for the damages. If the driver is eventually found, you can try to seek reimbursement, but that will likely end up being a dead end street.
In any case, Uninsured motorist coverage is a wise investment. Although you may never need it, you'll be glad you have it if you ever do need it. Uninsured motorist is generally inexpensive and may be just a few dollars a month – definitely worth it.
Contact Us Today
With so many Florida drivers on the road without insurance, it's in your best interest to get uninsured motorist insurance. While not required, it can certainly be a huge financial help when you least expect it.
Involved in a crash? See how the Kissimmee auto accident lawyers at Draper Law Office can help you get full and fair compensation. We'll work with the insurance company to ensure your damages are fully paid for. Schedule a free consultation today by calling (407) 743-6628 or filling out the online form.
Source:
wallethub.com/answers/ci/uninsured-motorist-coverage-in-florida-2140704320/