Pedestrian Killed After Exiting Vehicle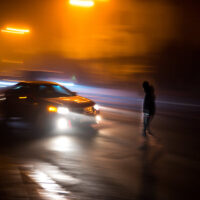 After a crash, there are protocols that drivers and passengers should follow to stay safe. While occupants should exit the vehicle after an accident, they should do so safely. There are likely other vehicles around, and if a person is not careful, they can get hit and killed in a subsequent car accident. 
Unfortunately, this was recently the case in Lake County. A person who was involved in a crash on the Florida Turnpike was later killed by an SUV in a separate crash. The fatal accident occurred on the evening of September 8 at mile marker 276.
The victim had just been involved in a crash on County Road 455. The vehicle came to a rest on the southbound shoulder of the Florida Turnpike. The unidentified person then exited their vehicle and crossed the concrete median. The person then walked into the northbound lanes of the roadway. At the same time, a 24-year-old woman driving an SUV was heading toward them.
The pedestrian kept going into the direct path of the driver. The two collided, with the pedestrian dying at the scene. It is unknown if the driver was injured. Both accidents are still under investigation. 
Stopping and Exiting Your Vehicle After a Crash 
After an accident, you may think that it would be safer to stay in your vehicle and call for help. This could vary, depending on where the accident occurs. Obviously, you don't want to keep your car on the road where it can block traffic and get hit again by multiple vehicles. A lot of people get killed this way.
If you can, move your car to the side of the road. If you can't, put on your hazard lights and if you have them, you can put cones and flares around the vehicle. This will hopefully warn other drivers to slow down and go around your car.
But before exiting your vehicle, make sure it is safe to do so. There may be other cars around you. The vehicle may be stuck in a ditch. Look all around you before opening the car door. Be cautious, as you don't want to sustain further injuries to yourself or cause more damage to your vehicle.
Once you exit your vehicle. stay put. Don't try to cross a busy highway or intersection. By exiting your vehicle safely, you can survey the situation. If there were other vehicles involved, you should see if others need help. Call 911 if necessary and exchange information with other drivers. 
Contact Us Today
After getting into a crash, drivers and passengers need to be careful when exiting the vehicle. Many pedestrians get hit after an initial crash, so it's best to stay in the vehicle and wait for help, if possible.
Contact the Kissimmee auto accident lawyers at Draper Law Office for help with your crash case. We'll work hard to get you the compensation you deserve. To schedule a free consultation, call our office at (407) 743-6628 or fill out the online form.
Source:
clickorlando.com/traffic/2022/09/09/victim-who-exited-vehicle-after-crash-on-florida-turnpike-struck-killed-fhp-says/