New stimulus checks on the way, beware of scammers and identity theft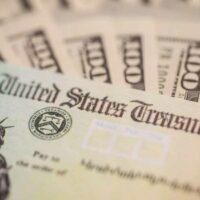 With another round of stimulus checks making their way to Americans via direct deposit payments or checks that will be mailed out in the coming weeks, there is little doubt that scammers will amp up for another round of attempted fraud.
In previous rounds, the Better Business Bureau received multiple reports from people who were contacted by text message, email, and phone calls by bad characters trying to scam their COVID-19 stimulus checks. Certainly, we can expect the same in this stimulus round.
So, how can you tell whether a call or text is the real deal? Be on the lookout for email or text messages encouraging you to click on a link to "request benefit payments." The link will likely take you to a form requesting you to enter your personal information so that you'll receive your full stimulus payment. It's actually a great way for your personal information to be stolen and for identity theft to take place.
There are also scammers pretending to call from a government agency. They request a fee be paid immediately, or for personal information to be given over the phone before the stimulus check can be released. In other cases, scammers say that there are additional funds available, or immediate funds ready for a small "processing fee" which can be pre-paid by debit card. These are all red flags and should be reported to the authorities immediately.
Remember, never pay money for a "free" government grant or program. If there is a fee involved, it's not free… it's bogus. A real government agency will not ask for an advanced processing fee. Instead, find out if the agency is legitimate by checking grants.gov.
If you think you've spotted a scam (even if you haven't lost money), report it to the authorities immediately.