Kissimmee's Festival of Lights Parade to brighten up Downtown Kissimmee Saturday December 11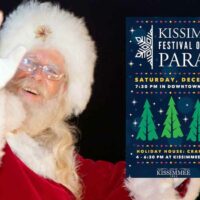 Central Florida's premier nighttime parade is back in Historic Downtown Kissimmee, Saturday night December 11, at 7:30 pm and is sure to be bigger, brighter, and filled with more celebrating and joy than ever!
The Kissimmee Festival of Lights Parade is an annual tradition that is perfect for the whole family. Join thousands of residents and visitors for a holiday event full of music, dancing, and thousands of holiday lights. It's a nighttime event not to be missed, and it's right in Downtown Kissimmee.
But that's not all of the fun that will take place in Kissimmee that day. Kissimmee's Holiday House will be open to the public in the Kissimmee Civic Center from 4 – 6:30 pm, and there will be free fun for the whole family – like crafts and… SANTA!
The parade will begin at 7:30 pm and the City of Kissimmee is recommending that the public arrives at least 30 minutes early to find the perfect place to enjoy the parade.