Draper Law Office, Positively Osceola, join school district in honoring featured teacher and staff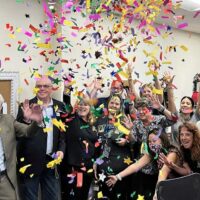 Draper Law Office and Positively Osceola visited two Osceola County Schools in November to celebrate, honor, and "surprise" a featured teacher and a professional support staff member. It's a program developed 6 years ago by Draper Law Office, Positively Osceola, and the Osceola County School District that focuses on saying thank you to teachers and staff that make a positive difference and impact in the lives of our most precious resource in the community, our students.
This month, we featured two very special people, Michigan Avenue Elementary's Jannine Williams-Wilson, our Featured Teacher for November, and LaShanna Ward, ISS Paraprofessional at St. Cloud Middle – our Featured Professional Support Staff.
Jannine Williams-Wilson, Literacy Coach at Michigan Avenue Elementary, leads professional development presentations for educators, develops assessment schedules, assists teachers with student assessment, analyzes student work, and much more. She is also the School Advisory Council Chair and an overall major contributor to Michigan Avenue Elementary. During our visit, it was announced that she is also Michigan Elementary's Teacher of the Year! Congratulations to Jannine Williams-Wilson!
Right next door to Michigan Avenue Elementary is St. Cloud Middle School, and so after a short walk, we were able to pay a visit to Ms. Ward, ISS Paraprofessional with St. Cloud Middle. Ms. Ward is known for consistently stepping up and supporting all of St. Cloud Middle. She assists with ESE units, serves as a back-up for St. Cloud Middle's Dean's secretary, supports restorative practices within ISS, helps monitor in the cafeteria during lunch, and much. more. It is safe to say that she can pretty much do any job on campus and does. Ms. Ward is the epitome of a team player and we loved being able to recognize her during our recent visit!
Draper Law Office would like to thank the School District of Osceola County, Positively Osceola, and of course, Superintendent Dr. Debra Pace, who joins us in our visits to the schools, and is without a question, the most excited person in the group – showing her care and thankfulness for every teacher and professional support staff we celebrate!