Slip-And-Fall Injuries Leading Cause Of Traumatic Brain Injuries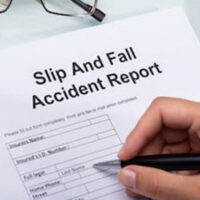 Slip-and-Fall accidents may seem like a fairly common part of everyday life, from spills to uneven sidewalks, it's easy to think that these kinds of accidents aren't serious. However, slip-and-fall accidents are not only serious, in many cases, they can be deadly. In fact, according to the CDC, one out of every five falls results in a serious injury, such as a fracture or serious head trauma, and over 800,000 people are hospitalized each year due to such injuries. Slips and falls at home represent the second leading cause of accidental death. All of these risks are heightened in the summer, due to the risks posed by pools and slippery surfaces. This is especially dangerous when we consider the link between slip and fall accidents and traumatic brain injuries.
Slip and Fall Accidents and Traumatic Brain Injuries
CDC statistics reflect that slip-and-fall accidents are the #1 cause of traumatic brain injuries. A traumatic brain injury occurs when there is a disruption of normal activity in the brain, usually caused by a blunt force trauma, or other bump, jolt, or blow, to the head. As you can imagine, slipping, falling, and hitting your head on a hard surface is almost guaranteed to cause trauma to the brain. The force of the brain hitting the skull upon impact can also cause brain swelling or hemorrhage as well as trauma to the skull, such as a fracture.
Every traumatic brain injury can present differently, but many result in a temporary lack of consciousness or affect an altered state of consciousness, such as a concussion. Traumatic brain injuries can range from mild to severe, and can present with a wide range of symptoms, which can be both short-term and long-term. 
Symptoms of Traumatic Brain Injuries
Symptoms of a traumatic brain injury can include things like loss of consciousness, loss of memory regarding what happened prior to the accident, severe head pain, migraine, visual disturbances (such as auras), muscle weakness, loss of vision, and change in speech, as well as shifts in mood, appearing disoriented or slow-moving, and difficulty concentrating. Some of these symptoms may disappear within minutes after the fall while others may last long term. Other long-term consequences of a traumatic brain injury can include extreme fatigue, irritability, changes in personality, short-term memory loss, depression, anxiety, and other changes to personality as well as negative impacts on mental health.
Bringing a Claim for a Slip-and-Fall Accident
The fact of the matter is that most slip-and-fall accidents are avoidable and only occurred due to someone else's negligence. If you have been injured due to a slip and fall caused by someone else's negligence, you have legal options available to you. Bringing a claim for negligence allows you to recover all expenses related to your injury, including treatment, medication, physical therapy, mental health care, medical equipment, and any other costs incurred as a result of the accident. These costs also include things like work missed as a result of the injury. If you were unable to return to your normal job as a result of your injury, you can also recover for lost earning potential. Additionally, you can pursue compensation for the pain and suffering caused as a result of the harm.
Contact an Attorney Today for Help
If you or a loved one have been seriously injured in a slip-and-fall accident, contact the experienced Kissimmee slip and fall lawyers at Draper Law Office and find out how we can help you get the compensation that you are entitled to.
Resources:
cdc.gov/homeandrecreationalsafety/falls/adultfalls.html
nsc.org/work-safety/safety-topics/slips-trips-falls