70-Year-Old Kissimmee Man Killed In Tractor Trailer-Collision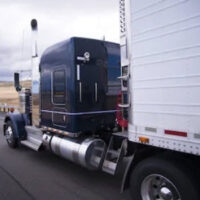 A 70-year-old Kissimmee man was killed in a tragic collision with a tractor-trailer that occurred at about 3:00 in the afternoon earlier this week. The Florida Highway patrol reports that the man was driving north on 36 Avenue East in Manatee County when he ran a stop sign and collided with a tractor-trailer that was traveling east on 36 Avenue. According to troopers, the front of the tractor-trailer impacted the left side of the man's car. The car then overturned and landed on the shoulder. The driver of the car unfortunately suffered fatal injuries as a result and died at the scene of the accident. Troopers did not comment on if any factors may have contributed to the man running the stop sign or on what may have precipitated the crash. The investigation into the accident is ongoing.
Dangers of Overturned Car Accidents
Overturned vehicles are unfortunately a common consequence of car accidents. They are also a common cause of serious and even fatal injuries. If passengers are not wearing seatbelts, an overturned vehicle is almost certain to eject them, generally causing fatal or severe injuries. Occupants who are wearing seatbelts during an overturned vehicle accident are still at risk of suffering neck and head trauma, brain and spinal cord injury, and broken bones. The physical and financial impact of an overturned car accident can be catastrophic. The medical bills alone for a family involved in an overturned vehicle accident can be nearly $1 million. If a family is uninsured or underinsured, a single accident can ensure financial ruin. When this accident was caused entirely by someone else's negligence or recklessness, it can be very hard to accept, particularly if the physical harm is permanent or affects your daily life. However, you do not have to shoulder the burden of an accident caused by someone else's negligence alone. There are other legal options available to you.
Suing for an Overturned Car Accident
If someone else's negligent or reckless driving has resulted in an overturned car accident that caused you or loved ones to suffer serious physical injuries and financial damages, you can bring a personal injury lawsuit to recover for your harm. A personal injury lawsuit aims to restore you to the position you would have been in financially had the accident never occurred. This includes compensation for all medical treatments and expenses related to the accident. This also extends to physical therapy and any equipment that was required as a result of your injury, such as a wheelchair. Additionally, if you missed work as a result of your injury or are no longer able to perform the same job as the result of a permanent or disabling injury, you can receive compensation for lost wages and reduced earning potential. You can also pursue compensation for the mental and physical trauma caused by the injury (known as pain and suffering). In some situations, punitive damages, intended to punish the driver for particularly egregious conduct, are also available. You will also be able to recover for property damage to your vehicle.
Talk to a Kissimmee Personal Injury Attorney
If you or a loved one have suffered serious injuries as a result of a negligent driver in Florida, you do not have to shoulder the burden alone. Contact the experienced Kissimmee personal injury lawyers at Draper Law Office and schedule a consultation today to find out how we can get you the compensation that you deserve.
Resource:
tampafp.com/70-year-old-kissimmee-man-killed-in-manatee-county-crash-wednesday/