St. Cloud and Kissimmee Police join pedestrian crosswalk crackdown, it's time to save lives together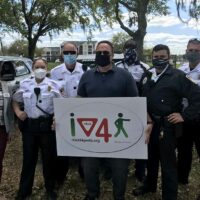 Officers with the Kissimmee and St. Cloud Police Departments have once again joined forces with law enforcement across Orange and Seminole Counties to crack down on drivers who fail to yield and stop for pedestrians in crosswalks, specifically at locations where schools will soon reopen.
Local roads will become busier when Osceola, Orange, and Seminole students return to classrooms starting the week of August 2. That's why local law enforcement will be out reminding drivers who fail to stop and remain stopped for pedestrians in marked crosswalks as Florida law requires.
In Osceola County, it's all part of Operation Best Foot Forward, a crosswalk enforcement operation taking place Tuesday, July 27 and Wednesday, July 28 by Kissimmee Police Department, and St. Cloud Police Department.
This operation is planned to reinforce that drivers really need to look out for kiddos. Recently a 10-year old girl was struck and killed trying to cross the street in Osceola County, and last year, Rebecca Laisch, a crossing guard in St. Cloud was struck by a vehicle as she worked to keep children on their way to school safe. Drivers who fail to obey the law in crosswalks may be issued a ticket for $164.00 and three points on their license.
At Draper Law Office we feel that a single pedestrian injury or death is too many, but if we all work together in the community and put our "Best Food Forward" we can help create a much safer community for everyone! #OperationBestFootForward #iy4peds.