Operation Best Foot Forward partners with law enforcement ahead of upcoming school year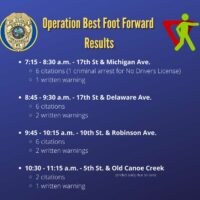 Bike Walk Central Florida's Operation Best Foot Forward was recently out with law enforcement in 16 locations ahead of the upcoming school year. Their goal was to increase driver awareness of pedestrians and bicyclists that share the intersections and roadways with them, and to remind drivers that schools will be back in session soon, and to watch out for the kiddos as they make their way to school.
In 2012, the Best Foot Forward coalition formed on the belief that the status quo is unacceptable and that with education and by partnering with local law enforcement and media we could see better results.
On average, 3 people are injured every day, and at least 1 person is killed every week for doing something as simple as crossing the street. 14 percent of those fatalities in Central Florida occur in marked crosswalks. Those are numbers that should decrease, and can with the assistance of the community.
The St. Cloud Police Department participated in the recent Best Foot Forward operation, and these were the results that came from their 4 locations:
7:15 am – 8:30 am – 17th St. & Michigan Avenue
6 citations (One criminal arrest for no drivers license
1 written warning
8:45 am – 9:30 am – 17th St.  & Delaware Avenue
6 citations
2 written warnings
9:45 am – 10:15 am – 1th St. & Robinson Avenue
6 citations
2 written warrnings
10:30 am – 11:15 am – 5th St. & Old Canoe Creek Rd.
2 citations
1 written warning
Draper Law would like to thank the St. Cloud Police Department and all the local law enforcement agencies who worked to remind the community that our kiddos will be back on the road very soon, and if we work together we can prevent any of our kids from being hurt or worse this school year!