What Not To Do After A Car Accident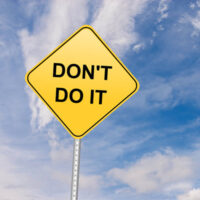 Car accidents happen on a daily basis. While crashes are very common, nobody wants to get involved in them. Even a minor crash can ruin your day. You know what else can ruin your day? Making a costly mistake after an accident.
When it comes to car crashes, what you say and do can be used against you. It's important to be wary of your words and actions following an accident. Saying or doing the wrong thing can ruin your case and cause you to lose out on much-needed compensation. Here are some things you should avoid doing after a car accident.
Leave the Accident Scene
Driving off after a car crash is a huge no-no, no matter how minor the crash may be. You always have to stop at the accident scene, check on everyone involved, and report the crash. If you don't, you've committed a crime most commonly known as hit and run. If you flee an accident scene and someone was seriously injured or killed, you could face felony charges. So always stop, even if you think the crash was minor.
Apologize
Apologizing for what happened may seem like the right thing to do. Plus, it's polite. But all that does is put the blame on you. That's right—saying "I'm sorry" could make it sound like you're apologizing for something you did wrong. And even though that may not be your intention, the insurance company will surely see it that way. So don't say too much. Less is better in this case.
Get Angry
Sure, you may be mad at the other driver, especially when they clearly caused the crash. However, you need to stay calm. Yelling at them or blaming them won't do any good. In fact, you could be seen as mean and defensive, which could negatively impact your case. So make sure the other driver is OK and refrain from getting mad.
Not Seeing the Doctor
You may feel fine after the crash, so there's no need to see a doctor, right? Wrong! You should always see a doctor as soon as possible after an accident. You could have internal injuries or back and neck injuries that are not immediately apparent. Sometimes injuries take days or even weeks to appear, so don't delay. If you don't seek medical treatment right away and are suddenly feeling hurt weeks or months later, the insurance company will think you are lying and deny you any compensation. So protect your rights to compensation by seeing a doctor right away and getting checked out.
Contact Us Today
If you have been involved in a car accident in Florida, make sure you understand what to do and what not to do. One mistake can make the aftermath much more complicated to handle.
The experienced Kissimmee auto accident lawyers at the Draper Law Office can guide you through the process and help you avoid common mistakes. Contact our office at (407) 743-6628 to schedule a consultation.
Source:
howstuffworks.com/car-driving-safety/accidents-hazardous-conditions/5-things-after-car-accident.htm