What To Do After An Uber Accident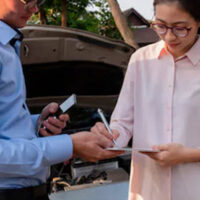 Many people use rideshare vehicles like Uber to get from place to place. This form of transportation is convenient for those who live in big cities and want to be able to party without having to worry about driving home.
While ridesharing is generally safe, Uber accidents do exist. Even the safest driver can get into an accident at any time. If you are a passenger when a crash occurs, you may wonder what your next steps should be. Here's a guide that can help.
Get to a Safe Place
As with any car accident, you want to make sure you get your vehicle out of harm's way to prevent a subsequent crash. If your Uber driver can't get the car out of the road, then you need to exit the vehicle and get to the side of the road quickly.
Call 911/Police
Do a quick evaluation of everyone involved. If you or someone else has been injured, call 911 so they can get medical help. Whether or not there are injuries, you should also call the police. You will want to get a police report that shows what happened and who is at fault. As an Uber passenger, you will likely not be at fault unless you did something to cause the crash.
Gather Information
You will want to collect evidence from the accident. You should take photos and videos of the accident scene, especially of any vehicle damage or injuries. You should also get the contact information of witnesses and everyone involved, including the Uber driver. Even if they say that Uber will cover the accident, you should still get the driver' s name, phone number, insurance company, policy numbers, license plate number, and car make and model.
File a Lawsuit
If you are seriously injured in a crash and Uber's insurance coverage is not adequate, you can file a lawsuit. Filing a lawsuit allows you to get compensation for all the damages you suffered, including pain and suffering.
Contact Us Today
Uber can be a convenient way to get around town, but dangers still exist. It's important that you know what to do after a rideshare accident.
The Kissimmee auto accident lawyers at Draper Law Office can assist you after a crash and guide you through the next step. Get started with a free consultation. Fill out the online form or call (407) 743-6628.
Source:
autoblog.com/2020/03/08/uber-driver-passenger-accident/