Truck Driver Killed In Kissimmee Crash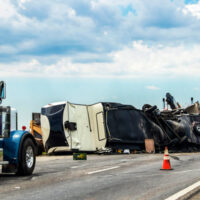 A serious auto accident can happen in an instant. They may involve cars, motorcycles, pedestrians, or large trucks. When large trucks are involved, the results can be fatal.
Sadly, this was recently the case in Kissimmee. A truck driver originally survived a fiery semi truck crash that happened on the Florida Turnpike on June 20. However, the man died five days later, on June 25.
The accident happened in the early morning hours in the southbound lanes of the Florida Turnpike, near mile marker 246. A 24-year-old man from Virginia was driving a semi truck in the inside lane. He drifted into the outside lane for unknown reasons and rear-ended another semi truck, which was driven by a 44-year-old man from Miami.
The impact of the collision caused the Virginia man to lose control. The semi truck overturned and caught fire, becoming engulfed in flames. The driver was critically injured but was able to exit the truck. He was airlifted to Orlando Regional Medical Center, where he died on the evening of June 25. The driver of the other semi truck was not injured in the crash. He remained at the accident scene.
Drifting Out of Lanes 
When driving on the roadway, drivers need to stay in their lanes. On a two-lane road, drifting into the adjacent lane can cause you to get into a head-on accident. On a multi-lane highway, drifting out of your lane can force other drivers out of their lanes or cause an accident.
Unfortunately, this situation is all too common. Drivers drift out of their lanes all the time, but why? Here are some possible reasons:
Distracted driving. Many people drive while distracted. They are not focusing on the road as they make phone calls, send text messages, eat food, read, change the radio station, or engage in other distracting activities. This can cause them to veer into another lane.
A driver could be falling asleep at the wheel because they are simply too tired to drive. They may shut their eyes for a few seconds at a time, causing them to drift out of their lane. They may eventually fall asleep and cause an accident.
Alcohol or drug use. If a driver has been using alcohol or drugs, they could become impaired. This intoxication could cause a driver to drift in and out of their lane or black out and cause a crash.
Medical emergency. While not common, a driver could have a medical emergency while behind the wheel. A seizure, stroke, heart attack, or other serious medical issue could cause a driver to lose control and end up in another lane.
Contact Us Today
Truck accidents can be serious situations. These large vehicles can cause fatal accidents when they collide with other objects.
A crash can lead to medical bills, lost wages, and other damages. Get the help you need from the Kissimmee auto accident lawyers at Draper Law Office. Get information about your legal rights after an auto accident. Schedule a free consultation by filling out the online form or calling (407) 743-6628.
Source:
clickorlando.com/traffic/2023/06/20/crash-closes-part-of-florida-turnpike-in-osceola-county/