What To Do In A Florida Rental Car Accident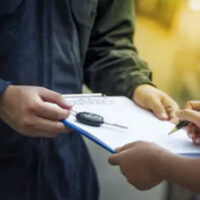 Whether you're on vacation or on your way to work, a vehicle collision is almost always a traumatic and overwhelming experience. However, for individuals driving rental cars when they are involved in an accident, it can add another layer of considerations and stresses to an already stressful time.
First Steps to Take Following a Florida Rental Car Accident
After being in a collision, it's important to take a deep breath and do a body scan, paying attention to anything that feels different in your body than it did before the crash. Soft tissue injuries, misalignments, internal bleeding, and other traumas are not always immediately apparent to doctors as they take more time to develop. For this reason, it's important to take a moment to really tune into your body and be honest about what you are feeling.
Regardless of the rental or ownership status of you and the other drivers involved, collect all of their license plate, registration, and insurance information, just like you would in a normal vehicle collision situation. If you are driving a rental car, the registration information should be in the glove box. It's important to also speak to any witnesses who saw the crash and to collect their contact information as well. Take photos of the damage and the other driver's car, including their license plates and any damage to their vehicle so that it can't be exaggerated later.
Call the police to respond to the accident and make a report. When the police arrive and ask you if you've been injured, be sure to tell them about anything that feels off, even if you are worried that it may be too minor to mention. That way it will be documented in the police report in case it becomes a bigger medical issue later.
It's also important to call the rental car agency to report the collision as soon as possible. There is usually an emergency number provided in the documents that the rental car company gives you at checkout.
After speaking to the police, it's important to get medical attention as soon as possible. Even if you are unsure of whether you have any "serious" injuries, car crashes cause serious trauma to the body, and it's important to get checked out by a professional. Additionally, the longer you wait to seek medical attention, the more of an opportunity it gives the opposing party to claim that your injuries weren't the result of the collision.
Insurance Coverage for Florida Rental Car Crashes
If you are a Florida resident and own a car, you are legally required to have Personal Injury Protection (PIP) of $10,000. This coverage applies even when you are driving a rental car rather than your personal vehicle. Florida is a no-fault state, so your PIP coverage will pay out to cover rental car accident injuries of up to $10,000 regardless of who was at fault.
If you are not a Florida resident or do not have PIP coverage, you may have purchased coverage through the rental car agency or a third party rental car insurance vendor, or you may have rental car collision coverage through the credit card that you booked the car with. It's always best to know before you even step foot in the car that you will be covered in the case of an accident and how–whether you are covered at all is the last thing you want to be worried about in case of an accident.
If you are unsure of how to proceed or what your options are, it's a good idea to consider scheduling a consultation with a Florida personal injury lawyer.
Talk to a Florida Personal Injury Lawyer
If you have been injured as the result of a Florida rental car accident that was not your fault, Draper Law Office is here to help. Don't waste any more time feeling overwhelmed. Contact the experienced Kissimmee auto accident lawyers at Draper Law Office today to schedule your free consultation.