What To Know About Wrong-Way Accidents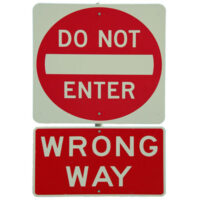 In a perfect world, all drivers would travel in the right direction. They would not be going the wrong way on a busy street such as a freeway. Unfortunately, though, many drivers are negligent while on the roadways. They are not always paying attention to where they are going,
This is a serious issue. When two vehicles are coming at each other at high speeds, the results can be deadly. Wrong-way crashes account for just 3% of accidents on high-speed divided highways, but they are much more likely to result in fatal accidents than are other types of highway accidents. That's because most of these accidents are head-on crashes.
What Causes Wrong-Way Accidents?
Going in the wrong direction is hardly ever an accident. There are many reasons why wrong-way accidents happen, including the following:
Drunk driving is a major cause of drunk driving. According to the National Transportation Safety Board (NTSB), nearly half of wrong-way accidents are caused by drunk drivers. Of those, more than three-quarters have previous drunk driving charges on their record. But it's not just alcohol. Drugged driving is another major issue.
Poor lighting or signage. A lack of signs could lead a driver to go in the wrong direction. A road should have a sign such as "Do not enter," Wrong way," or "One-way street" to keep drivers from making these mistakes. Poor lighting may also be an issue. In fact, many wrong-way accidents happen at night, when visibility is reduced. Poor visibility can also occur during the day due to fog, rain, and other weather conditions.
Distracted driving. A driver who is distracted by smartphones, passengers, pets, the radio, navigation, and other issues may not be aware of where they are going. They may overlook a traffic sign advising them that they are going in the wrong direction. Therefore, being alert and focused while driving is crucial.
Memory or health problems. An elderly person who is confused or suffering from blindness, dementia, or other health issues may experience difficulties while driving. This can cause them to travel in the wrong direction.
Falling asleep at the wheel. Fatigue is another major issue for drivers. This often happens at night. An overly tired driver may travel in the wrong direction or even fall asleep and end up going the wrong way.
Reckless driving. In some cases, drivers know what they are doing. They know that not following traffic laws is illegal, but they do it anyway. A teen driver may think driving in the wrong direction is fun, but it's dangerous and reckless.
Contact Us Today 
Wrong-way accidents can cause serious accidents. They often lead to catastrophic injuries and death.
If you have been a victim, the Kissimmee auto accident lawyers at Draper Law Office can help. Contact us to see what you are entitled to receive. To learn more, call our office at (407) 743-6628 or fill out the online form.
Source:
ntsb.gov/safety/safety-studies/Documents/SIR1201.pdf